Lucky Man star Rupert Penry-Jones: 'Playing a villain is more fun!'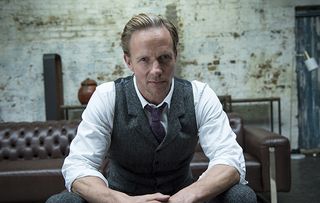 (Image credit: Steffan Hill)
Rupert Penry-Jones on being a baddie in the return of James Nesbitt's fantasy drama Lucky Man
Rupert Penry-Jones is unleashing his villainous side as he joins the third series of Sky One's fantasy crime drama Lucky Man. The drama sees the actor play Samuel Blake, the arch-nemesis of troubled DI Harry Clayton (James Nesbitt), who is eager to get his hands on Harry's lucky bracelet for his own sinister purposes.
Here, Rupert Penry-Jones reveals all to TV & Satellite Week about joining Lucky Man…
TV & Satellite Week: Were you a fan of Lucky Man before?
Rupert Penry-Jones: "Yes, I watched it with my kids [Florence and Peter with wife Dervla Kirwan]. It's edgy and embedded more in reality than magic and superheroes. They're pleased I'm in it."
TVSW: How would you describe Samuel Blake?
R P-J: "His parents have been lost in an explosion because of one of these bracelets. So he's out to rid the world of them because he thinks they are evil. But he doesn't care who gets hurt along the way. He has manipulated things to get Harry and the bracelets in a place where they can be damaged. Both men are forged in fire as Harry's family died in a fire too. They are equally powerful but the bracelets tip the balance."
TVSW: What was it like working with James Nesbitt?
R P-J: "We have the same agent and I kept saying to her, 'I really want to work with Jimmy'. She said, 'He's been saying that as well'. Every day we were on set together was a good day. I've already got plans to find something else together."
TVSW: Do you enjoy playing the villain?
R P-J: "Yes, I much prefer it to being a good guy. It's more fun. I've been doing an FX drama in Toronto called The Strain where I've been playing a 2000-year-old vampire. He is even more of a crazy villain than Blake, so I've brought it down a few notches for this!"
TVSW: Have you had any stunts to do?
R P-J: "I've been in speedboats shooting guns and doing martial arts. It's the same action as when I did Spooks. I do as many stunts as I can, but not as many as I used to. It hurts more now because I'm getting on a bit!"
Lucky Man returns on Friday 20th July on Sky One at 9pm
Caren has been a journalist specializing in TV for almost two decades and is a Senior Features Writer for TV Times, TV & Satellite Week and What's On TV magazines and she also writes for What to Watch.
Over the years, she has spent many a day in a muddy field or an on-set catering bus chatting to numerous stars on location including the likes of Olivia Colman, David Tennant, Suranne Jones, Jamie Dornan, Dame Judi Dench and Sir Derek Jacobi as well as Hollywood actors such as Glenn Close and Kiefer Sutherland.
Caren will happily sit down and watch any kind of telly (well, maybe not sci-fi!), but she particularly loves period dramas like Call the Midwife, Downton Abbey and The Crown and she's also a big fan of juicy crime thrillers from Line of Duty to Poirot.
In her spare time, Caren enjoys going to the cinema and theatre or curling up with a good book.
Thank you for signing up to Whattowatch. You will receive a verification email shortly.
There was a problem. Please refresh the page and try again.