Rowan Atkinson returns as Maigret: 'The good thing about being a detective is you're not the one going to the guillotine!'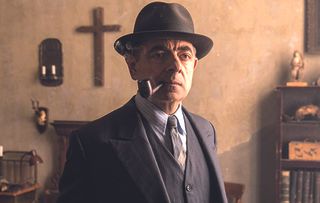 Rowan Atkinson on Maigret, motors and why he wouldn't make a good real-life detective
When it was announced that the man known around the world for the broad physical comedy of Mr Bean and the dry-as-a-bone irony of Blackadder was to play Maigret, it's fair to say one or two people were a little surprised.
However, after two investigations as writer George Simenon's taciturn French detective, Rowan Atkinson, who returns in Maigret's Night at the Crossroads, seems very much at home in the role.
TV Times caught up with the 62-year-old comedy legend on location in the Hungarian capital Budapest, where the lavish-looking feature-length crime drama is shot, to find out what cunning plan Maigret has up his sleeve in his latest case…
Rowan, what's happening in Maigret's latest case? "A diamond dealer is shot at a crossroads 30km outside Paris. There's this local detective, played by Kevin McNally, who wants to deal with it because it's his 'manor', but Maigret takes an interest in the case..."
This is your third outing as Maigret. How is the role evolving? "Things like this take time to develop, and the first episode you ever make is never going to be as good as the last. For instance, I can watch the development of Mr Bean, and he's actually quite a different person at the end of the last Mr Bean movie than he was in the first TV episode, which we did 10 or 15 years prior."
Will we see a lighter side to Maigret this time? He's so serious! "In the first two films, my default position was to be as withdrawn and downbeat as possible, because that felt like the safest way of playing Maigret. But with any character, no matter how serious, you can give them a degree of irony that can, if well presented, be funny in a gentle way."
You are known as a bit of a petrolhead. Have you thought about snapping up Maigret's car? "The Citroen Traction Avant! I have thought about it. We've got them on set and they're great, actually, but not quite my kind of vintage car. They're a little bit slow and clonky."
Would you make a good detective in real life? "It's a very particular kind of skill. And, like every skill, it's about being interested, isn't it? So you've got to have the passion. Would I have the passion to find out if a criminal was lying? No, I don't think I would."
What's the difference between playing this sort of role and the comedy parts you're best known for? "The actor's job is to find a credible character in order to tell a story – whether it's Mr Bean washing his underwear in a launderette, or Inspector Maigret trying to solve a case. The skills I'm employing to play Maigret are exactly the same ones you use to play comedy roles."
Which would you say is harder? "I think comedy is generally speaking more difficult than the more serious stuff. Yet, because it's comedy, it's dismissed as froth, which is a shame. I wouldn't want my playing a more serious role to be seen as me seeking some sort of credibility that I have lacked playing comedy roles."
You recently played Mr Bean in a Chinese film. What was that like? "It was all in a language that I couldn't understand, so getting my cues – for instance working out when you had to walk through a door - was tricky. When they give you a Chinese word to listen out for, it's almost impossible!"
Will we see you in any action scenes as Maigret in this case? "There's a bit of running around, which I'm capable of – up to a point. The important thing is to warm up first. On Johnny English Reborn, I tore a muscle in the back of my right calf. But so far I've had no injuries as Maigret…"
With this much darker material, do you find it hard to switch off from the role? "I remember when we did the last episode of Blackadder Goes Forth [when they are all mown down by machine gun fire], there was this strange feeling that at the end of the week you were going to die! The good thing about being the detective is that you're not the one who's going to go to jail or to the guillotine!"
https://youtu.be/RVQs-DAjrL0
Do you think these films will revive the popularity of Georges Simenon's Maigret novels? "If you'd asked people a year and a half ago: 'Have you ever heard of Maigret?', I think most of them would have said no. Many people of my age read the books when they were in their teens and 20s, but they've become much less fashionable with the passage of time. Now I think the name is a little bit more out there, and people are going back to the books and discovering their richness."
Maigret's Night at the Crossroads premieres on ITV on Easter Sunday at 8pm
Get the What to Watch Newsletter
The latest updates, reviews and unmissable series to watch and more!
Ian writes about TV and film for TV Times, What's on TV and TV & Satellite Week magazines. He co-hosts the weekly TV streaming podcast, Bingewatch.