Martin Clunes: 'I refused to eat bear stew!'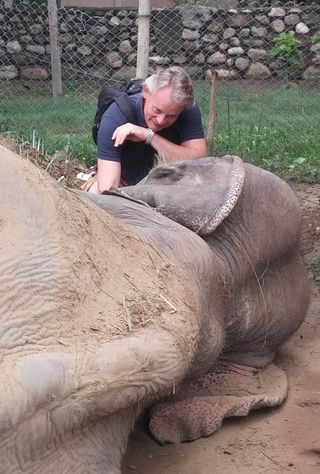 Martin Clunes isn't just an actor – he's a farmer too. And he'll happily admit that he will bottle-feed orphan lambs and give names to his cattle but then send them off to slaughter when the time is right. But while filming his new series – Martin Clunes: Man And Beast – the Doc Martin star's ethics were put to the test when he met the Matagi tribe in northern Japan.
The ancient tribe  hunts and kills the Asian black bear partly for their own safety, but also as a source of food. When invited to join them in a meal of  wild bear casserole, Clunes couldn't bring himself to have a nibble…
Martin Clunes couldn't face eating a meal made from Asian black bear (Richard W Rodriguez/AP)
"I knew it was something I would be offered. I thought I would be fine, I eat my own lambs. But as we got there, there was something to do with the act of filming it – it was kind of entertainment, and I didn't want to eat a bear for fun, for entertainment," he said.
"I will be honest, I had people like (wildlife campaigner) Virginia McKenna in my mind, also my involvement with animal welfare issues and charities. So I said no.
"Also it didn't look very nice. It looked like puddle water with bones, not a nice thick brown stew as I had imagined."
Martin Clunes meets an elephant in Thailand (Buffalo Pictures/ITV)
Martin, who explores the relationship between humans and animals in the show, revealed he was asked to carve the head of a sheep at the dining table when he was visiting Mongolia.
"It was a ritual for the visitor to carve the head, and give the tenderest cut to the oldest person there, and then the sweetest, which is the ear, goes to the youngest person there, and then I have to serve myself. It would have been rude to refuse," he said.
"Then they pass round a bowl with the juice of the mutton has been boiled in and we all had to drink that. Then we had fermented mare's milk, which is alcoholic. I survived all that without getting tummy upsets."
Man And Beast With Martin Clunes begins on ITV on 15 May at 9.00pm.
Get the latest updates, reviews and unmissable series to watch and more!
Thank you for signing up to Whattowatch. You will receive a verification email shortly.
There was a problem. Please refresh the page and try again.