Mary Berry on Paul Hollywood: 'We had our differences'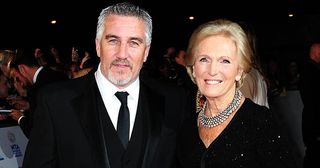 (Image credit: PA WIRE)
Beloved former Great British Bake Off judge Mary Berry has lifted the lid on her relationship with fellow judge Paul Hollywood
Former Great British Bake Off judge Mary Berry has said that she had her differences with Paul Hollywood, but she 'admired him a lot'.
The 81-year-old decided to stay with the BBC and presenters Mel Giedroyc and Sue Perkins when Channel 4 poached the hit show, saying that she was never tempted by the money.
She told Radio Times magazine 'no one was more surprised than me' when Bake Off left the BBC, but that she avoided even being asked to join the show at its new home.
Asked if she had ever been attracted by the prospect of a bigger pay cheque, she replied: "No, I wasn't. And anyway, I was never asked to go. I avoided being asked. It was suggested what would happen if I did go to Channel 4, what I would get, the advantages.
"But I didn't ever have a meeting with them. I'd made up my mind. To me, it's an honour to be on the BBC. I was brought up on it."
The baking queen, who could be replaced by Prue Leith on the Channel 4 show, said of Paul: "I would always stand by him. Paul and I had our differences about what was important to us, but he is a brilliant bread-maker and I admired him a lot."
She called Mel and Sue 'extraordinary', adding: "They are extremely bright and their humour is spontaneous and very cheeky. They are hilarious and I am so fond of them.
"It was the BBC's programme, it grew there. So I decided to stay with the BBC, with Mel and Sue."
Mary said that she was no fan of the clean eating craze and has a glass of wine most evenings with supper, adding: "I don't do any of the clean food thing. It says sugar is out. There's nothing wrong with having a little sugar. I eat sugar and I'm not huge."
And she joked about her appearance: "I'm quite good, aren't I? I'm not bad."
Opening up about her long and successful marriage to Paul Hunnings, a retired antiquarian bookseller, she said that when he first asked her father for her hand, he accidentally ran over and killed a dove.
"He called me a blithering idiot," her husband told the magazine, "So I left it for a week."
She only accepted his hand in marriage after the third request – the first and second time sending him away because he had been drinking.
The couple had three children, Thomas, Annabel and William. In 1989, William died at the age of 19 in a car crash while driving his younger sister into town.
"After the crash, Annabel used to gather up the newspapers and hide them," Mary said. "So I wouldn't see the reports.
Get the latest updates, reviews and unmissable series to watch and more!
Thank you for signing up to Whattowatch. You will receive a verification email shortly.
There was a problem. Please refresh the page and try again.