Ex Casualty star Matt Bardock turns ultra nasty in New Blood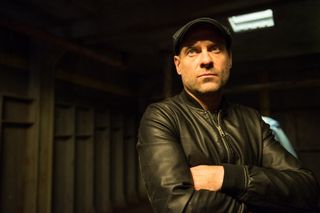 (Image credit: BBC/Eleventh Hour Films Ltd)
Matt Bardock wanted a departure from nice guy Jeff in Casualty – and he got it! He plays a villain who 'enjoys hurting and kiling people' in New Blood, as he explains
He was loved by millions of viewers for his role as Casualty good guy Jeff Collier, but now Matt Bardock is returning to our screens in BBC1 crime series New Blood and his new character couldn't be more different from kind-hearted paramedic, Jeff...
Tell us about your role in New Blood… "I play a man called Mark Craig who comes into the series in the fourth episode in a new two-part story. He's a very bad man, who has no redeeming qualities at all. He goes around doing some pretty horrendous things, but he was a lot of fun to play!"
Who does he work for? "He's an enforcer for a dodgy construction firm who need someone to intimidate and coerce people. They don't want to get their hands dirty, but they're happy for him to go to any lengths to get the job done. He enjoys his job though. He enjoys hurting and killing people because he's a bit of a psychopath. He's working for a ruthless outfit and he's the perfect man for the job!"
How does he meet young investigators Rash and Stefan? "In the end their investigation into his employers means he has to do something about them. I can't say too much, but it's very dramatic!"
Was it good fun playing a bad guy? "It was like going back to the parts I used to play 20 years ago. It's like my old Prime Suspect days! It was fantastic to do. It was a bit liberating, very different from stuff I've done recently."
Did you have fun filming on set in London? "Yeah it was brilliant. It's a great series, Ben and Mark are superb as the two leads and the script is fantastic. It's Anthony Horowitz, so I always knew it would be good. Working on New Blood was an absolute joy. There was something interesting happening every day and so much action - it was like being on a James Bond set!"
Mark is certainly very different from Jeff, who you played in Casualty... "He couldn't be more different! In a funny way that's absolutely perfect for me, because you come out of a show like Casualty and you worry you'll only be offered roles like that. It was a fantastic opportunity to go and do something completely different and reinvent myself."
Do you still get a chance to watch Casualty from time to time? "I don't get a chance unfortunately as I'm so busy, although my little girl who's now eight watches it so sometimes I catch a bit of it when she's got it on. She never watched it when I was in it!"
Do you look back on your time on the show with fondness? "Yes I had a great time doing it, it was a wonderful job and I met loads of great people."
You wanted to do different stuff from Casualty, were you desperate to get this part? "When the script came along, this was the only part I was interested in. They asked me to have a look at a few parts, but this was the only one I wanted. I was worried it wouldn't come my way and would be too much of a departure, but luckily I got it and doing it has been an absolute gas."
Were there any mishaps while filming stunts? "There were no mishaps, thankfully. All the stunts were done very professionally and with great stunt co-ordinators. There was nothing too scary, in fact I did scarier things on Casualty, while driving that ambulance!"
Matt Bardock stars in New Blood on Thursday, June 30 at 9pm on BBC1 and will be available on the BBC iPlayer from 23 June.
Feature writer for TV Times, What's On TV, TV & Satellite Week and whattowatch.com
Sean has been writing about all things telly for over 10 years and in that time he's been lucky enough to interview stars like Ian McKellen, Tom Hardy and Kate Winslet. His favourite shows are The Great British Bake-Off, People Just Do Nothing and Succession and in his spare time he enjoys drinking tea, doing crosswords and watching football.
Thank you for signing up to Whattowatch. You will receive a verification email shortly.
There was a problem. Please refresh the page and try again.