Michael Portillo on the amazing discoveries he made in his new series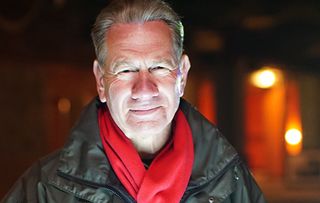 Former politician turned TV presenter, Michael Portillo, visits an abandoned hospital where pioneering surgery made medical history...
Former politician turned TV presenter, Michael Portillo returns with a new five part series of Portillo's Hidden History of Britain on Channel 5, unlocking the intriguing history behind some of Britain's long-abandoned locations, including a disused fire station in Manchester, a former cinema in Bradford and a Russian Submarine on the River Medway.
First he travels to Hampshire to take a look inside the Cambridge Military Hospital where medical history was made...
What's On TV met with avid historian, Michael Portillo to hear more....
What's On TV: Tell us what you discover about the Cambridge Military Hospital …
Michael Portillo: "The Cambridge Military Hospital is a magnificent building built in the 1880s and constructed alongside Florence Nightingale's guidelines: a vast central corridor, big area wards with enormous windows to allow in daylight and fresh air and WCs attached to each ward. It was state of the art when it was built and found its true purpose during WW1 when very large numbers of casualties were brought to it including thousands of soldiers suffering devastating facial injuries.'
WOTV: Why was surgeon Harold Gillies so important at the hospital?
MP: "Gillies was a young military surgeon working there who became a global pioneer. He thought very carefully about how you could repair human faces, not just by giving soldiers masks that would cover their injuries, but by actually using tissue to replace the tissue that was missing.
He developed the 'tubed pedicle' – which took me completely by surprise. The idea that you could walk or as they say 'waltz' a piece of flesh from one part of the body to the other and rebuild a nose or a cheek, a jaw, with flesh taken from another part of the body was amazing. Some of the recorded photographs are very graphic but it was so uplifting to see the dramatic improvements that Gillies made. As is as so often the way, Gillies is an unsung hero, not someone who most of us know anything about but who made a huge difference in some very important fields."
WOTV: In the programme you watch military surgeon, Colonel Alan Kay , perform a demonstration of the tubed pedicle on a dead pig. How did you find that?
MP: "I was astonished, I had no idea about this procedure or that it was done during the war. It was extraordinary, but of course when Gillies first pioneered it, he could only do it by trial and error. One of the earliest cases he tried, which was a massive facial reconstruction on a young pilot whose face had been pretty much destroyed, was a catastrophe and the man ended up dying from gangrene."
WOTV: Gillies later used this technique to perform the very first gender reassignment in 1951 didn't he…
MP: "Yes, he did. In the programme I meet Diana Cowell who was the daughter of Robert Cowell, the first man ever to undergo gender reassignment. Robert was a racing driver and former spitfire pilot who became Roberta following pioneering surgery from Gillies.
Meeting Diana was very moving. She was talking about events from a very long time ago and yet she clearly still carried the shock of it all. Yes it was a pioneering operation and a trailblazer in medical history but for her, she felt she had been abandoned by her father. To discover at a very young that her father, who had left, had become a woman and to see him splashed over all the front pages of magazines and newspapers, must have been unintelligible because it just hadn't happened before."
WOTV: Many of the buildings you visit in the series are in a state of serious disrepair. Are you ever nervous about going into them?
MP: "Sometimes we have to wear hard hats, it just depends on the conditions in each place and there were certain places we couldn't go. In the hospital some of the wards had ceilings that were coming down so we avoided them.
I find all the places I visit have that Marie Celeste quality where you feel like someone walked out the day before, because the signage is still there, or you find props or items that were used. When we visited The Royal London Hospital last year, the operating theatres were still filled with lights as though the surgeons has simply left the day before. When we're poking around these old buildings you can almost hear the sounds and smell the smells even though they were deserted a long time ago."
WOTV: Does it make you feel a bit sad that buildings that were once so important have been long since abandoned?
MP: "I learnt long ago that for a building to survive it has to have a function. You can't have lots of beautiful empty buildings, you have to find new functions for them and just accept that. Obviously it would be lovely if the Royal Military Hospital was still open for military use, but it's design would not, in any way, be suitable for that. The good thing is it's not being pulled down, they are planning to turn it into flats inside but the exterior will remain."
WOTV: You're always very busy, how do you like to unwind when you're not working?
MP: "I actually like working more than anything! Even though I spend most of my working life traveling, I travel for leisure as well. I'm planning to go to Antarctica soon. The appeal is that it's hard to get to, I've never been and I'll probably never go again. I'm sure it's wonderful."
Michael tells us about the other abandoned locations he visits in the series ...
MANCHESTER FIRE STATION
"This once housed an entire community, not just the firefighters and their families but there was also a coroner's court and police station as part of the complex. I meet some of the former residents and although they recall some of their frightful experiences fighting fires. I was very touched by the amazing camaraderie that once existed there."
CAMBRIDGE BUNKER AND A RUSSIAN SUBMARINE
"Not far from the Cambridge city centre is a bunker that was built to house an entire Government department in the event of a nuclear holocaust. I also go inside an abandoned Russian submarine on the Medway containing nuclear tipped missiles and talk to Russians who were involved in the Cuban Missile Crisis."
BRADFORD CINEMA
"Built in the 1930s in a great era of movie-going, this was once a spectacular building that could seat 3000 people and later on The Beetles performed there. Now it's crumbling and derelict and when we filmed there was as much rain pouring down inside as outside. I enjoyed meeting couples who first met and fell in love in the ballroom there."
BRIGHTON PIER AND THE VICTORIAN SEWERS
"The West Pier in Brighton used to be the epitome of the great British seaside but has long since collapsed. It was rather eerie taking a boat out round the decaying structure on a misty morning. I also explore the impressive Victorian sewers which were first constructed to combat the outbreak of cholera that Brighton found itself in the grip of."
Portillo's Hidden History of Britain begins Friday 2nd November at 9:00pm on Channel 5
Portillo's Hidden History of Britain by Michael Portillo is published on 1st November 2018 by Michael O'Mara Books (hardback, £20)
Get the latest updates, reviews and unmissable series to watch and more!
Thank you for signing up to Whattowatch. You will receive a verification email shortly.
There was a problem. Please refresh the page and try again.