Michael Praed: 'I've never done anything like Emmerdale before. It's a huge challenge'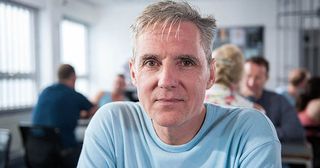 Robin Of Sherwood and Dynasty star Michael Praed discusses his journey from 80s heartthrob to Emmerdale's enigmatic Frank
No woman of a certain age could possibly forget actor Michael Praed as Robin Hood. With his long locks, chiselled jaw and trousers so tight it's a wonder he could breathe, let alone shoot an arrow, the Robin of Sherwood star was the TV pin-up of the 1980s.
Then Michael joined Dynasty, where he played Prince Michael of Moldavia, a dashing royal who wed Amanda Carrington – whose stepmother Alexis was played by Joan Collins.
But having starred in two of the biggest shows of the decade, Michael went off the radar. He's been busy working in theatre and now, after 30 years, he's back on our screens in Emmerdale where he plays Frank Clayton, the estranged father of both Vanessa Woodfield and Tracy Shankley.
What made you decide to return to TV after working in theatre for such a long time? "I said to my agent 'I have got to get back on the box' and then this job came up and Frank is arguably one of the most interesting characters I have ever played. Whatever you think of him – he is not that! He is a well-liked guy, but some people will think he is a bit dodgy. He's what you might call a rogue."
Frank has been locked up for manslaughter and is currently in hospital following a fight in prison. Surely that makes him a baddie? 'He is not an outright bad guy. He was having dinner with a lady friend when this drunk guy grabbed her. Frank is not a fighter, he's a lover, but he pushed this guy who tripped on the kerb, hit his head and died. So you see, Frank is certainly not a cold-blooded psychopath."
He's not a great father, either, as neither Tracy nor Vanessa are aware of their connection to each other... "They are keen to visit his sickbed and it is only this week that they both discover they are his daughters. Frank had no idea they were in the same village. He has been estranged from them for a long time and now he is going to want to make it up to them."
So will he be sticking around? "He will, but there may be other reasons as well – he has got to stay somewhere and he is a bit of an opportunist."
Rumour has it that the female cast members of Emmerdale are delighted to have Sherwood's hero on set. So how do you feel about being a heartthrob? "I had absolutely no idea what anyone was really thinking back in the Robin Hood days. Of course, I read some of the things people were saying about my looks and found them very flattering.
"I missed most of the fuss though because I left Robin of Sherwood to star in a Broadway musical. The fame certainly wasn't a burden, it was fantastic – I got the best seat in restaurants and it is wonderful when people think you are this most amazing creature.
"But you know, when I did Robin Hood, I was just one of the guys and in Dynasty, I was a small cog in a large machine. They were all lovely and working with Joan Collins was great fun.
"They were always saying they loved my accent, but I would quote back the writer Christopher Hitchens and say 'My dear, it's not me who has the accent, it's you.'
"The money was good, too. Acting can be tough and I had only just started out so when my agent told me about the deal for Robin of Sherwood, I said 'Wow, that's a big hunk of change!'"
When you moved from Robin of Sherwood to Dynasty, you had to have all your hair chopped. How did that make you feel? "They gave me the most ludicrous haircut. It was as if somebody stuck a bowl on my head and cut round it!
"The whole Robin Hood look had been an act of private rebellion – I went to boarding school where you had to have short back and sides. Once, during the holidays, I didn't have my hair cut and the headmaster sent me to the barbers and then he kept sending me back to have it even shorter.
"When it came to Robin of Sherwood, I had done this job before where I played a pirate for a year and saw it as a chance to grow my hair. I said to my father 'I am going to create a fashion here.'"
You've always had a passion for acting and in your twenties you clinched the role of Robin, but after Dynasty things went very quiet for you... "I have done some TV and a lot of theatre, but it wasn't a conscious decision. It was just the work I was offered. For a long time, I just couldn't even get an audition for TV. I didn't know what the hell was going on, but I do adore theatre, so there are no regrets.
"During the 80s, I remember being so busy that all I ever seemed to be doing was working or doing interviews. I wouldn't even get a lunch break as people would say "You've got to talk to so and so now.'"
You have a challenging time ahead of you as you're contracted to appear in Emmerdale for the next year... "I have never done anything like this before. They shoot in these things called blocks and you might find yourself doing scenes from 12 different episodes in a two week period.
"It is a huge challenge, but exhilarating. I think there must be something in the water in Yorkshire, because I couldn't have been more welcomed. It feels like joining a family."
Get the latest updates, reviews and unmissable series to watch and more!
Thank you for signing up to Whattowatch. You will receive a verification email shortly.
There was a problem. Please refresh the page and try again.