Millionaire catastrophe continues as Thunderbirds aren't go as Mustafa loses £7,000! And contestant reveals One Foot in the Grave tattoo!!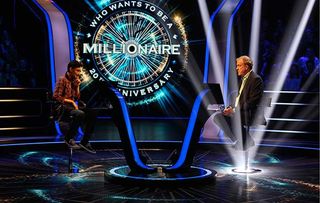 (Image credit: Stellify Media)
Thunderbirds disaster and a chap with One Foot in the Grave tattooed on his leg on another night of drama on Millionaire...
Host Jeremy Clarkson is desperately hoping someone might scoop a million on Who Wants To Be a Millionaire – but there was yet another disaster answer last night as poor Mustafa lost seven grand on a Thunderbirds question.
Asked in the 1960s TV series Thunderbirds, which vehicle was used for underwater missions, Mustafa used his 50/50 lifeline to be left with two possible answers: Thunderbird 4 and Thunderbird 5.
Mustafa guessed Thunderbird 5 and Jeremy buried his head in his hands as the correct answer, Thunderbird 4, was revealed. "It's happened again, it's the wrong answer," said Jeremy.
Fans are beginning to get frustrated with all the wrong answers being given, most famously with Lynn from Cambridge dropping £31,000 early in the week after ignoring her husband's advice! "Who picked the contestants for this show omg they're all awful," wrote one, while another said, "As James May would say, what a pillock!"
Viewers are now hoping that contestant Gareth, who survived last night to continue tonight, can win big. And in a chat with Jeremy, Gareth revealed that he had lost his leg in a car crash and now has a funny tattoo on the other. "I have One Foot in the Grave tattooed on my leg!"
'I want to see this One Foot In The Grave tattoo, otherwise I don't believe it," quipped one viewer.
Jeremy has thrown his support behind Gareth, saying 'Come on Gareth.'
Jeremy is clearly having a great time hosting the show and he previously told us: "I'm a massive fan of quiz shows and I was absolutely addicted to Millionaire first time around. It's the daddy of them all, the absolute king of quiz shows. When you step into a show as iconic as this, you're bound to be nervous and that's undoubtedly true of me!"
Gareth will try to win the elusive millionaire as the ITV show continues tonight.
Get the latest updates, reviews and unmissable series to watch and more!
Thank you for signing up to Whattowatch. You will receive a verification email shortly.
There was a problem. Please refresh the page and try again.