Millionaire fans can't believe Lynn from Cambridge ignored her husband and lost £31,000 on night of terrible answers!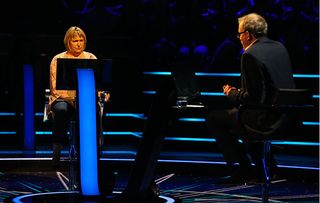 (Image credit: Stellify Media)
String of wrong answers cost contestants dear as it looks unlikely anyone is going to scoop a million pounds
ITV quipped that Lynn from Cambridge might want to sleep downstairs after spectacularly ignoring her husband's answer and losing £31,000 on last night's Who Wants To Be a Millionaire?.
Asked in 2016, whom did Boris Johnson succeed as Foreign Secretary, Lynn pondered… and pondered… and then used the new lifeline, ask the host, to see what Jeremy Clarkson thought.
Like her, he thought the answer was William Hague. She then decided to phone her friend, which turned out to be her husband, who promptly told her the right answer, Philip Hammond, only for her to inexplicably ignore him and go for William Hague!
Lynn looked stunned when Jeremy told her that her husband was correct and she joked that he was going to kill her.
Referencing where Lynn might be sleeping for the next few days, one fan wrote: "Downstairs? Or the back garden, or even better at her sisters for a few days."
Another simply said: "D'oh!"
One quipped: "Ian and Lynn if you're reading Twitter, are you still married?! Cos I think I would have built a shed for Lynn when she got back!!"
Lynn from Cambridge took the news that she'd dropped £31,000 surprisingly well and she was far from the only contestant messing up on the show. Another contestant lost out after deciding wrongly that St Jeremy, rather than St Jude, was the Roman Catholic patron saint of hopeless causes.
And to add insult to injury, a yoga teacher only went a way with a £1,000 after not knowing that the Balearic islands are part of Spain.
Jeremy will no doubt be hoping someone gets their act together as Who Wants To Be A Millionaire continues on ITV at 9pm.
Get the latest updates, reviews and unmissable series to watch and more!
Thank you for signing up to Whattowatch. You will receive a verification email shortly.
There was a problem. Please refresh the page and try again.