Noel Sullivan: 'It's hard being thrown on the scrapheap at a young age' (VIDEO)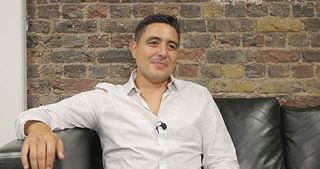 Ordinary Lies star Noel Sullivan talks about dealing with the break-up of Hear'Say and what life's been like after the band...
Noel Sullivan had admitted he struggled to cope following the break-up of Hear'Say.
The actor and singer shot to fame as one fifth of the pop band – along with Kym Marsh, Myleene Klass, Suzanne Shaw and Danny Foster – after being discovered and put together on ITV fly-on-the-wall documentary Popstars in March 2001.
Noel with his Hear'Say bandmates (L-R): Suzanne Shaw, Myleene Klass, Danny Foster and Kym Marsh
Unfortunately, after becoming stars overnight and scoring a number one with their debut single, Pure and Single, the bubble soon burst.
Kym – best known these days at Corrie's Michelle McDonald – sensationally quit the band in February 2002. Then, the following October – around 18 months after their formation – Hear'Say split, blaming abuse from the public.
Noel, 36 - now starring in the BBC1 drama Ordinary Lies – admitted he found it hard to deal with the band's break-up at such a young age and has revealed how he got back on his feet.
"It's difficult when you're in the early 20s and you're thrown on the scrapheap and told: 'Right that's done now'," Noel told What's on TV. "I'm really grateful I have such a good family and an amazing support network around me who just reminded me what I was good at and, actually, I found my feet again in theatre where people are so supportive and so helpful.
"So that's what I've been doing, just building a career that nobody can take away from me, which is where I'm at now and it seems to be going in the right direction."
Noel's now playing forklift truck driver Neil in BBC1's Ordinary Lies
Thankfully, Noel said members of the public are much nicer to him these days when he meets them out and about.
"People mostly sing Pure and Simple at me, so that's fun," said Noel. "There's a certain age group who are really fond of Hear'Say and then you get to a certain age and they're kids and they just don't you who you are. You find that women in their mid-20s onwards really wanna get a selfie and go nuts about it."
Having got over the bad times, Noel now looks back on Hear'Say with fond memories…
"It's nice to be remembered for something that had an impact on people and it has inspired a whole generation of people to follow their careers as singers. Now we've got the juggernaut of X Factor that's still going – think of all the amazing artists that have come out of that process. So it was nice to be among the guinea pigs for that!"
For a bit of nostalgia folks, here's Noel with Hear'Say in the official video for Pure and Simple:
https://youtu.be/TgtdZaa01Ws
Ordinary Lies continues Tuesdays at 9pm on BBC1.
Get the latest updates, reviews and unmissable series to watch and more!
Thank you for signing up to Whattowatch. You will receive a verification email shortly.
There was a problem. Please refresh the page and try again.