Olivia Lee: 'It's time for men to Man Up!'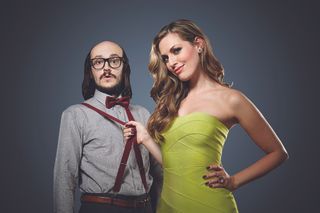 (Image credit: Mark Johnson)
Olivia Lee is on a mission to helps hapless males in need of a life makeover...
Modern man is in crisis, but help is at hand in the shape of FOX UK's Man Up, a new makeover show in which 10 hopeless cases are taken in hand by host, comedian Olivia Lee, a psychologist and a stylist, and are then turned into eligible, capable and dateable men. TV&Satellite Week magazine caught up with Olivia, best known for her TV pranks on Balls of Steel and Dirty, Sexy, Funny, to find out more:
Modern men are a bit lost… Women are just so evolved in so many areas now, and they have left men behind.
The men we help in Man Up had all been rejected at some point… They'd stopped asking girls out and going for what they wanted and, before they knew it, they were 35, still living at home and hadn't had a girlfriend in 10 years.
I expected Man Up to be like a Judd Apatow movie… I thought I'd be meeting lots of cool Seth Rogen man-child types. In fact, these guys all had really deep stuff we needed to work through.
I don't like my men to be too well-groomed… I'd rather have a scruffy guy than a Brad Pitt any day. Wearing 'man-scara' is a complete no-no. It's not manly.
I fell asleep on a date once… This guy was telling a long, boring anecdote with no punchline in a monotone. He went to the loo and, when he came back, I'd fallen asleep. It was the last time I saw him.
There are certain things girls don't want to hear on a date… For instance, 'I live with my mum' or 'In my spare time I like playing on my computer'.
I think I'm a gay man trapped in a woman's body… All my friends have said that to me. I can't bear people who moan, and if you've got a problem I want to fix it right away.
I'm writing a sitcom based on my relationship with my nan… Dream casting for my nan would be Maureen Lipman, or maybe I could play her in prosthetics, like Catherine Tate!
• Man Up begins on FOX (Sky channel 124, Virgin 157) on Tuesday 4 March at 9pm
Get the latest updates, reviews and unmissable series to watch and more!
Thank you for signing up to Whattowatch. You will receive a verification email shortly.
There was a problem. Please refresh the page and try again.