One Foot in the Grave to return? Star offers way back for dead Victor!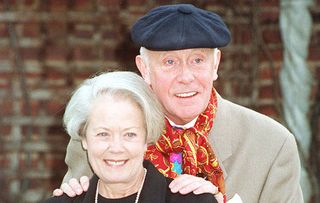 (Image credit: PA Archive/PA Images)
'I don't believe it!'
One Foot in the Grave famously ended in 2000 with the death of Richard Wilson's grumpy character Victor Meldrew, but now co-star Annette Crosbie has offered a way back for the pensioner.
Annette, who starred as Victor's long-suffering wife Margaret, offered fans hope that the legendary comedy could one day make a return.
While being reunited with Richard on Loose Women, the pair were asked if they could see One Foot in the Grave coming back as a stage play or musical.
Annette teased: "I wouldn't mind it all being a bad dream and he's not dead."
Of course, the BBC has previously revisited much loved comedy characters when they were younger – could we see Victor as a lad?
One Foot in the Grave, with its distinct theme tune composed and sung by Eric Idle, was one of the biggest comedies of the 1990s.
But in 2000 writer David Renwick killed off Victor in a hit and run accident. Recalling talking about Victor's potential demise, Richard said: "David came to see a play I was in and he said, 'I'm thinking of killing Victor. I said, 'Yeah, kill him.'"
Annette added: "I didn't want it ever to end but I could understand why it had to."
Richard, who popped up briefly as a ghostly Victor in a 2001 Comic Relief sketch, revealed that people still shout Victor's "I don't BELIEVE it" catchphrase at him. "Oh, yes," he said.
Father Ted fans will recall a memorable episode where Ted screams the catchphrase at Richard Wilson, playing himself in a wonderful cameo, who then starts whacking Ted with his hat!
Richard and Annette joked that they no longer really keep in touch.
"We don't remember when we last met," commented Richard. Annette said: "Basically, we didn't keep in touch… he lived in North London and I lived in South. As far as he was concerned, I lived in the back of beyond."
Richard quipped "Wimbledon – I mean, where's Wimbledon?"
Meanwhile, Annette said she was the grumpier of the two. "As people, I am much grumpier. I could leave him standing. I'm fierce."
Main pic: PA Archive/PA Images
Get the latest updates, reviews and unmissable series to watch and more!
Thank you for signing up to Whattowatch. You will receive a verification email shortly.
There was a problem. Please refresh the page and try again.