Ordinary Lies' Con O'Neill: 'I wouldn't do what Joe does – but I understand why he does it' (VIDEO)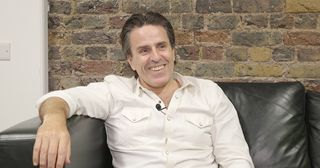 Actor Con O'Neill talk about his character's act of desperation in the new series of Ordinary Lies...
Con O'Neill has revealed how his character 'unravels' in the new series of Ordinary Lies when he takes drastic action to find out if his wife is cheating.
As the drama returns to BBC1 next week, the focus is on the call centre and warehouse of Coopers, a sports sales firm in Wales, whose staff all seem to have something to hide.
Happy Valley star Con plays head of sales, Joe, whose cheery demeanour is knocked when he suspects his wife Belinda (Jill Halfpenny) is having an affair. Out of desperation, Joe comes up with a secret plan to find out the truth.
"One day Joe comes home from work and Belinda's there but the doors are locked and he doesn't understand why she's not at work," said Con. "So he takes things one step further and he starts to use surveillance equipment to check out what his wife's doing."
Con believes Joe's actions aren't as extreme as some people might think.
"When I first read it, I thought it was a bit extreme but then I did some research and every single DIY shop is selling interior surveillance equipment for your homes, cameras, microphones. Every time you turn on the television, you've got reality TV with cameras in every bedroom, every window, every doorframe. So I don't think it's that big a step."
But, it seems Joe soon realises that ignorance was bliss.
"What Joe does has an awful impact because he discovers a whole load of stuff that he didn't realise was going on and he unravels because he really doesn't know how to cope with the information that he finds," said Con.
"Joe does question whether it's better to know something or never to have found something out but he's a dad and you have to protect your kids. So I don't think he regrets doing what he does because it reveals something that in many ways he needed to know.
"I feel for him. I wouldn't do what he does – but I understand why he does it."
Ordinary Lies starts Tuesday October 18 at 9pm on BBC1.
Get the latest updates, reviews and unmissable series to watch and more!
Thank you for signing up to Whattowatch. You will receive a verification email shortly.
There was a problem. Please refresh the page and try again.