Patrick Malahide: 'I'm more recognised for Game of Thrones than Minder – unless I'm in a taxi!'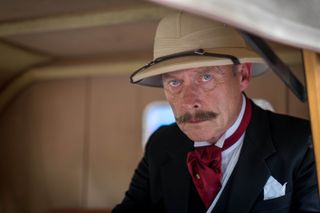 (Image credit: Matt Brandon)
What's on TV (opens in new tab) caught up with legendary Minder star, Patrick Malahide, 71, to talk about Indian Summers. Naturally we ended up chatting about Game of Thrones, Minder and, more randomly, cricket…
How do we find Viceroy Willingdon during the second series of Indian Summers?
"His story is slightly different this series. It's coloured by the fact he knows he's on the way out and this is his last year. There are doubts about his physical ability to carry on, and he's asking himself, 'Now that I'm on my way out, does my life amount to anything and do I have a legacy?'"
It sounds like a serious time for him?
"It's all rather sad actually. And a bit bleak, as Willingdon comes to terms with his own mortality and also whether or not all the work he's done over the years will actually amount to anything. It's been interesting to play."
We know already Ralph Whelan has designs on Willingdon's job. Does this affect Willingdon's relationship with Ralph?
"Without giving too much away Willingdon's main storyline this series is coloured by his relationship with Ralph. To what extent does Willingdon wilfully turn a blind eye to Ralph's character? And to what extent does he have the wool pulled from his eyes? It's a painful time for Willingdon, and rather sad for him. It becomes very personal as he realises perhaps Ralph (Henry Lloyd-Hughes) isn't all he thought he was."
Willingdon is the only character in Indian Summers based on a real person. Has that made a difference to your performance?
"I've done a bit of research on Willingdon so I've been able to feed in little things I've found out about him. Indian Summers' writer Paul Rutman is really generous and collaborative and we often talked about the way the character was going. Paul's very receptive. For example, when I mentioned to Paul that Willingdon was a first-class cricketer and wouldn't it be great if he played cricked in India somehow, Paul being Paul, he grabbed that idea and turned it into something very clever…"
Will we see you in cricket whites?
"Later in the series you'll see the Viceroy hold a cricket match in order to get various political parties to co-operate. Cricket becomes metaphor for trying to get an agreement through sport. So that's the gem of an idea from an actor being taken up by the writer and turned into something else. It's been really enjoyable to take a little bit of responsibility for the character."
Is the ideal working environment one where there's a bit of collaboration?
"It is ideal but it very rarely happens to be honest. It used to happen on Minder. Perhaps it's easier in comedy because you can feed in stuff as you go along. It can be more difficult with a fully structured dramatic script. You can't muck about with that to the same extent. I think when I'm playing a real character I feel some responsibly to get it right, and if the writer is receptive to that, it's very productive and enjoyable; and it certainly was in this case."
You mentioned Minder, and you've also been in Game of Thrones. What do you tend to get recognised more for?
"It comes and goes. The nice thing about Game of Thrones is it's a whole new generation of people. And it's global, which is extraordinary. So I suppose its more Game of Thrones than Minder now. Unless I'm in a London taxi – that's very different and another generation!"
What do you tend to get asked about Minder?
"When I get in the back of a cab I'm usually asked what was it like working with George Cole. If I had a quid for every time I was asked that! He was a lovely man. I was sad, but very pleased to be able to go to his funeral last year. In fact, Michael Povey, who played my character's sidekick in the series, we sat at the back of the crematorium as if we were about to nick him, and his brown trilby hat was on the coffin."
You show no signs of slowing down in your career, is that because you love the work?
"It's the work really. If decent roles keep coming in, I'll keep doing it! I'm lucky in that, as I get older, I get to be a bit pickier. It's a very long time to pretend to be other people!"
Indian Summers continues Sundays at 9pm on Channel 4.
Writer for TV Times, What's On TV, TV & Satellite Week and What To Watch
With twenty years of experience as an entertainment journalist, Elaine writes for What's on TV, TV Times, TV & Satellite Week and (opens in new tab)www.whattowatch.com (opens in new tab) covering a variety of programs from gardening and wildlife to documentaries and drama.
As well as active involvement in the WTW family's social media accounts, she has been known to get chatty on the red carpet and wander into the odd podcast.
After a day of previewing TV, writing about TV and interviewing TV stars, Elaine likes nothing than to relax… by watching TV.
Thank you for signing up to Whattowatch. You will receive a verification email shortly.
There was a problem. Please refresh the page and try again.