Gone Fishing stars Paul Whitehouse and Bob Mortimer talk fishing and friendship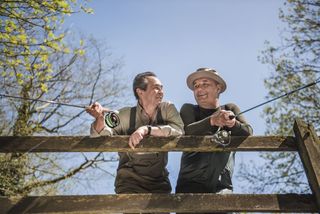 (Image credit: BBC/Owl Power/Parisa Taghizadeh)
As their delightful series Gone Fishing returns, we asked old mates Paul Whitehouse and Bob Mortimer to tell us four things each of them has learned from the other...
Two old blokes chewing the fat while fishing hardly sounds like unmissable TV. But Gone Fishing, in which The Fast Show's Paul Whitehouse and Shooting Stars' Bob Mortimer do just that, turned out to be one of the surprise hits of last summer.
The two comics, both of whom have had heart operations, started fishing together when Paul, who had stents inserted, coaxed his old mate Bob – who'd had a triple bypass – out of the house for a spot of recuperation.
The experience spawned – so to speak – the series, which makes a welcome return this week with a trip to one of Paul's childhood fishing haunts in Wales.
Those who caught series one of Gone Fishing will know that this is not just for fishing aficionados, nor is it all larking about, since the pair, both in their 60s, touch on serious subjects such as health problems and growing old, as well as making each other, and the viewers, laugh a lot.
If none of that appeals, you can just sit back and enjoy the glorious British countryside.
We caught up with old mates Paul and Bob ahead of the new series to ask them what they had learned from each other over the years. This is what they told us…
Bob: Four things Paul has taught me…
1. Embrace the great outdoors!
It's 45 years since I'd bothered to go to a river, or get out into the countryside. It's so easy to neglect it, and I've gone though my adult life not realising that beauty was so accessible. I'd got very lazy – I'd just sit at home. I have to give Paul a big thank you for changing that. Now, if I'm sitting at home or on the train, I'll wish we were out fishing!
2. Remember to say thank you!
Paul has really good manners. He makes sure he's thanked everyone and acknowledged what they have done on the show. When Jim [Moir, Bob's comedy partner Vic Reeves] and I did our first show, we didn't do that. We felt rotten when it was pointed out. We thought it came from the fact that, when we were working up north as a bin man or in a foundry, no one said: 'You did great welding today!', or 'Thank you for removing my rubbish!'
3. Rediscover the spirit of friendship!
As I get older, I realise that friendship, when I was young, was a brilliant, unthinking thing. You'd just say: 'Are you coming round tonight?', or go out on your bikes. When you're about 30 with kids, friendship becomes something different, almost functional. I rediscovered that old kind of friendship with Paul.
4. See both sides of the argument!
Paul is not engrained in his beliefs, whereas I am. He's very open-minded. We're in media circles, so you might say with confidence: 'I'm boycotting this company'! because that's what our type of people do! Paul will be more like a conscience that says: 'Well, have you thought of this, or what about that?'.
Paul: and four things Bob has taught me!
1. Don't stress about telly!
I remember filming some sketches about the pop group Slade with Vic [Bob's comedy partner Jim Moir] and Bob in Hastings. While we were there, the first episode of The Fast Show went out on TV and we were worried it might be just trashed.
I remember Bob saying [doing an uncanny imitation of Bob's Yorkshire accent]: 'Paul, at the end of the day it's only a TV show!'
2. Performing should be fun!
When [The Fast Show's] Charlie Higson and I started doing bits on Vic and Bob's Big Night Out, I watched their enthusiasm for what they did, and it was inspirational. That sheer enjoyment really rubbed off on me. As a performer it made me ponder less about 'is this going to work?' and just go and do it.
3. Recapture the thrill of fishing!
Bob reminded me of the extraordinary feeling of anticipation I used to have as a kid when going down to a river. Because I've done it regularly, I didn't have that amazing thrill you get as a kid. But for Bob, because of that absence, it was like that.
4. It's not all about the fish!
I think Bob sees my reaction to catching a fish as maybe a bit cynical. I get a lot of joy out of it, but I don't punch the air! However he made a great observation about what makes the best angler. It's not the person who catches the biggest fish, it is the one who enjoys the day the most. I've caught loads of fish over the years, so if Bob catches one, I'm just as happy!
Series two of Mortimer & Whitehouse: Gone Fishing starts on BBC2 on Friday 2 August at 8pm
Ian writes about TV and film for TV Times, What's on TV and TV & Satellite Week magazines. He co-hosts the weekly TV streaming podcast, Bingewatch.
Get the latest updates, reviews and unmissable series to watch and more!
Thank you for signing up to Whattowatch. You will receive a verification email shortly.
There was a problem. Please refresh the page and try again.