Peter Kay says he's 'sorry he upset' people over premature end of Car Share - 'I didn't think there would be petitions!'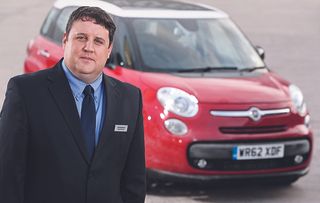 (Image credit: BBC/Goodnight Vienna Productions)
As Car Share comes back, Peter Kay reveals he was stunned by reaction he got when second series ended last may and it looked like it wasn't coming back
Peter Kay tickled the nation's collective funny bone and captured millions of hearts along the way with Car Share.
The BBC1 comedy about supermarket assistant manager John Redmond (played by Peter) and promotions rep Kayleigh Kitson (Sian Gibson), paired together in their company's car scheme, began as two strangers making small talk. But during their daily commute to and from work, their relationship turned into a friendship, before blossoming into a will-they-won't-they romance.
Yet when the second series ended last May, Peter announced it was the end of the road for the show, leaving fans devastated.
Thousands signed petitions asking for another ending after Kayleigh stepped out of John's red Fiat 500L, and apparently out of his life, forever. Peter admitted that he hadn't been prepared for such an overwhelming reaction.
"I'm sorry I upset people," he says, somewhat baffled. "I didn't mean to upset anybody. I didn't think there would be petitions!"
The good news is that, 12 months on, Peter, 44, has given in to fans' demands.
http://www.youtube.com/watch?v=Mmdlv7CY3hw
Next week, there will be a special episode, featuring Peter and Sian improvising as John and Kayleigh. Peter hopes it'll satisfy viewers who are thirsty for more of their banter.
"As Sian and myself often ad-lib when filming, we thought we'd give it a go for an entire episode," he says.
"I think it's always good to try to do something original and I couldn't think of any other narrative comedies that have ever made a fully-improvised episode.
"We just reacted to whatever came on the radio and went with it, good or bad."
The pair found they had only one problem filming the unscripted episode – keeping a straight face!
"We were always laughing," says Sian. "Nearly all of the laughter you see in Car Share is genuine."
Along with next week's unscripted instalment, later this month we'll see the final ever episode, in which viewers find out what happened the day after Sian declared, "I love you John, and it kills me you don't feel the same."
There's little doubt both specials will be huge hits, adding to the success of a show that has already won BAFTAs and broken viewing records on BBC iPlayer. Amazingly, though, its popularity came as a complete surprise to its stars.
"Even though I knew how much people love Peter, I was worried they'd get bored with us stuck in a car and that I might be responsible for Peter's TV flop!" grins Sian, 41.
She needn't have worried!
Get the latest updates, reviews and unmissable series to watch and more!
Thank you for signing up to Whattowatch. You will receive a verification email shortly.
There was a problem. Please refresh the page and try again.