Pete's Peek | Hammer's fangtastic vintage horror Dracula gets a definitive Blu-ray and DVD UK release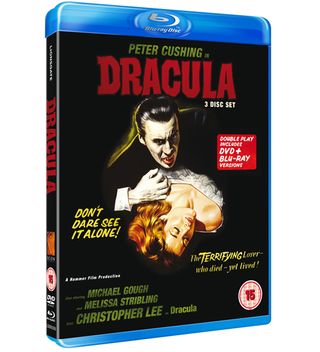 THE STORY During the autumn of 1885, Dr Van Helsing (Peter Cushing (opens in new tab)) puts a stake through the heart of his friend Jonathan Harker after he falls victim to a vampire, Count Dracula (Christopher Lee (opens in new tab)). When Harker's fiancée Lucy (Carol Marsh) is turned into one of the undead, Van Helsing brandishes his stake again, setting her soul free. Robbed of his conquest, Dracula seeks revenge by seducing Lucy's sister-in-law, Mina (Melissa Stribling). Can husband Arthur (Michael Gough) and Van Helsing find a way to free her from Dracula's blood lust before its too late…
THE LOWDOWN With it's blood-splattered opening shot, Hammer's 1958 adaptation of Bram Stoker's 1897 novel welcomed in a new generation of horror – Hammer horror and all in colour. The gothic melodrama's blend of the erotic with the horrific was a box-office success that set the benchmark for the studio's subsequent output, and turned Cushing and Lee into one of cinema's most famous double acts.
But it was another duo who were responsible for Hammer's greatest achievement – director Terence Fisher (opens in new tab) and screenwriter Jimmy Sangster. Their moral fairy tale about adultery forever changed people's perceptions of Bram Stoker's novel and relegated Tod Browning's stagey 1931 version to the knacker's yard. By turning Dracula into a demon lover who threatens the conservative values of the Transylvanian equivalent of home counties (opens in new tab) Britain, they also connected with a pre-permissive 1950s audience. It was shocking, but it worked. From now on, Dracula meant sex.
THE RESTORATION In 2007, Dracula underwent a BFI restoration, HD re-mastering and a theatrical re-release. In 2011, sections of an extended print were discovered in Tokyo. These included two scenes originally censored by the BBFC in 1958: Dracula's seduction of Mina and Dracula's disintegration (pictured above) After extensive restoration, the most complete version of the 1958 film has now been achieved. It has also gone back to using the original UK title, Dracula, rather than the US title, Horror of Dracula.
THE DISC Fully restored in high definition, at the correct aspect ratio, on Blu-ray and DVD, the Lionsgate (opens in new tab) UK release (available from 18 March) contains both restorations and a bounty of extras that will be of huge interest to fans – especially the four surviving un-restored Japanese film reels and the original shooting script. This release makes a perfect companion to Lionsgate's restored version of Hammer's first horror, The Curse of Frankenstein (read my review here (opens in new tab) http://youtube.com/v/MDTxHg7wyP0
Get the What to Watch Newsletter
The latest updates, reviews and unmissable series to watch and more!