Pete's Peek | Is it time to reappraise the 1970s S&M love story The Night Porter?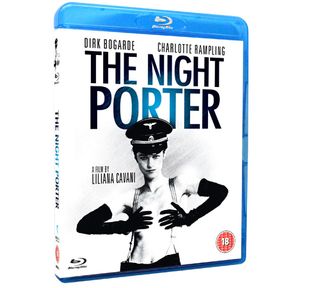 Dark, disturbing and morally ambiguous, The Night Porter caused a bit of a ruckus when it appeared in cinemas in 1975, with critics either accusing its director Liliana Cavani of sensationalism or praising her courage.
Dirk Bogarde plays former Nazi concentration camp officer Max who, 13 years after the war, is now working in a hotel in Vienna. Guilt-ridden about his actions during the war, Max tries to keep a low profile while awaiting the trial of himself and a group of other Nazi officers. But when his former inmate-turned-lover Lucia (played by Charlotte Rampling) turns up at the hotel, it's not long before they pick up their sadomasochistic relationship where they left off.
For me, Cavani's film is a beguiling piece of cinema that has more to do with sex addiction than exploiting memories of Nazi persecution, and that is down to the script's delicate handling of the subject matter, the careful use of light and location, and Bogarde's consummate performance.
Bathed in shadows, Vienna has never looked less a picture postcard setting; while Cavani's use of dark greens, blues and bronzes on Osvaldo Desideri's stunning art nouveau sets really serves to heighten the psychological state of Max and Lucia.
With his perfectly timed effected mannerisms, Bogarde gets deep into the character of Max, and you find yourself feeling his sense of shame with every aside glance and furtive collar scratching. It's addictive viewing – and so is the doomed lovers storyline. It's certainly disturbing, but not sensational, with the S&M scenes (tame by today's standards) handled with care. The Night Porter really doesn't deserve the nazisploitation tag that it's has been lumped with, and certainly rises above those kind of genre films that followed in its wake. To me, it's a compelling piece of cinema that's up there with Visconti's The Damned and Bertolucci's The Conformist.
When I first saw the film back in the 1970s, the muddy cinema print made the film look dark and dingy – I hated it; but the Anchor Bay release (I watched the Blu-ray) is a massive improvement; it really makes the film's dark palette shine, and allows Alfio Contini's cinematography (especially the infamous bridge scene ending) to finally breathe.
Get the latest updates, reviews and unmissable series to watch and more!
Thank you for signing up to Whattowatch. You will receive a verification email shortly.
There was a problem. Please refresh the page and try again.