Pippa Haywood: 'Julie needs to tread carefully'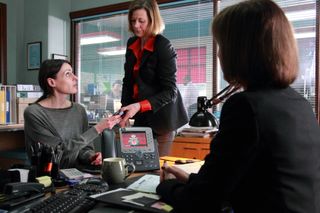 Rachel's ex Nick Savage is attacked in this week's final part of Scott & Bailey - and Syndicate 3 boss Julie Dodson delivers the news that Rachel's the prime suspect, as actress Pippa Haywood reveals... What attracted you to the role of Julie Dodson in Scott & Bailey? "Julie's a fantastic character and I like the double act between Julie and Gill Murray. When they are at work they have this reputation that they are fearsome; a force to be reckoned with, but there's also a lot of humour between them. I think a night out with the pair of them would be fantastic!" Does their friendship make it more difficult for Julie to deliver her news to Gill... and Rachel? "Well, as Julie's from a neighbouring syndicate, they've worked together before, but she's really treading on their patch here. Julie knows Rachel is Gill's protege, so she's aware Gill wouldn't want any muck being thrown at one of her prized police officers. It's a very delicate situation - Julie knows she's got to tread carefully and that there could be major consequences for Rachel." Viewers first met Julie in episode one - do we see a different side to her in this final episode? "Julie's not in quite as jokey mood as she was in the first few episodes and more really getting down to business. The scenes are brilliantly underplayed though; without a sledgehammer, so I do hope viewers enjoy seeing a different side, yes." Julie's very different from Harriet, the character you played in Prisoners' Wives... "I know! To play a character so lacking in confidence as Harriet and then to suddenly walk in as a DCI, with bags of experience and confidence. It was really lovely playing two such incredibly different characters in succession. They're poles apart!" Why do you think Scott & Bailey is so popular? "This show brings a new dimension to policing and female-led drama in that you get to see who these women are as human beings, not just as police officers. Hopefully this has paved the way for more great female characters within drama." Scott & Bailey concludes on Monday at 9pm on ITV.
Get the latest updates, reviews and unmissable series to watch and more!
Thank you for signing up to Whattowatch. You will receive a verification email shortly.
There was a problem. Please refresh the page and try again.