Poldark's Sean Gilder: 'This time I'm a goodie!'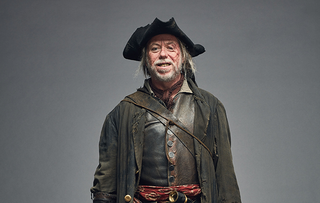 Poldark's new recruit Sean Gilder reveals his incredible transformation into sea dog Tholly Tregirls...
Sean Gilder can't wait for Poldark fans to meet his character, sea dog Tholly Tregirls, when he makes his debut in this Sunday's episode of the hit BBC1 costume drama.
A dangerous but comical old friend of Ross's father, reckless womaniser Bartholomew – Tholly for short – has been away from Cornwall for 13 years and comes back to put down roots.
But it's not long before he's stirring the adventurer spirit in Ross (leading man Aidan Turner), which could spell trouble for all…
So, Sean, how would you describe Tholly?
"In Tholly's own words, some people call him a pirate, others say he's a salty sea dog or a freetrader. Aidan and I worked on a back-story based on Winston Graham's books. Ross lost his mother quite young, so his father brought him up. We thought Ross was around 12 when we met, his father was in his forties and Tholly was late twenties. Whenever Ross's father wanted to go on adventures, Tholly would know where to go and became a troublesome mentor to Ross - he probably introduced him to booze! After Ross's father died, Tholly disappeared from Cornwall. So my character comes into the books and series as someone who could possibly pull Ross back to the exciting ways of his younger years."
Does he succeed?
"Well I arrive in episode two and we're on an adventure by episode three! It's interesting because people look at photos of my character and ask, 'Is Tholly a baddie or a goodie?' Even my kids went: 'You're always a baddie, Dad!' Well, this time I'm a baddie by looks and history but I'm actually a goodie as during this series Ross needs somebody he can trust to defend and protect him."
It takes 60-minutes to transform you into Tholly. Tell us more about how his facial scar is created?
"In Winston Graham's book, there's a wonderful line which says Tholly's scar makes Ross's scar look like a cat scratch, so make-up designer Pippa Wood went to town on that. She used three prosthetics on my face to create the template of one long scar and then added little bits of dried fish skin – a product which is used to make skin look as if it's died - to pull the eye down. Then she had to add another scar on top of that!"
Tholly also has quite a collection of tattoos…
"Pippa and I think Tholly travelled a lot in the Far East as there were great gains to be had out there during that period and tattoos were for things you achieved at sea. He has a turtle and an anchor on his hand, which meant you'd crossed the equator and sailed over 5000 nautical miles, and sailed the Caribbean and Indian Oceans where turtles swim. Tholly also has little hearts on his fingers with initials on to symbolise all the loves of his life over the years."
Your character also wears a hook in place of his left hand. How do you find using it on screen?
"The first hook I had wasn't strong enough so I couldn't do anything for fear of it breaking. The costume team redesigned it, and it's now got a handle inside so I can use it for picking up apples and things. I also have a rubber version of the hook to wear in fight scenes so no one gets injured."
Watch Sean's first appearance as Tholly in Poldark on Sunday, June 18, BBC1, 9pm
Get the What to Watch Newsletter
The latest updates, reviews and unmissable series to watch and more!