Ricky Tomlinson: 'Caroline's death is the biggest shock. It's knocked me for six'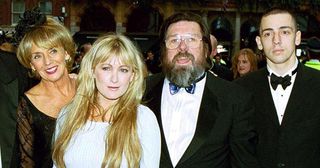 (Image credit: TIM ROOKE/REX/Shutterstock)
The star of The Royal Family, Ricky Tomlinson pays a heartbreaking tribute to his on-screen daughter and off-screen boss, the late Caroline Aherne
Star of The Royal Family Ricky Tomlinson has spoken deeply about the loss of Caroline Aherne, the woman who created the role that made him a superstar in the UK.
Caroline's death due to lung cancer was announced on Saturday, at the age of 52.
Ricky starred as Jim Royle, the lazy, ill-mannered patriarch at the heart of the BBC1 sitcom, renowned for his catchphrase 'My arse!'.
Ricky told the Sunday Mirror: "I'm so bloody shocked. She was absolutely wonderful and amazing to work for. Kind, funny, witty. A true professional and one of the most generous people I ever worked with."
He continued: "She never talked about her health, ever. I can never ever remember her complaining.
"She must have gone through a lot, but I never saw her looking unwell.
"She never flagged in work and the atmosphere when she was writing and acting was brilliant."
Another star of The Royle Family, Ralf Little (Anthony) echoed Ricky's sentiments on Twitter.
He wrote: "Sorry for silence - I just... don't know what to say. What a sad, sad day. We've lost another one of our best.
"A character. A legend. A boss. A sister, real and (for me) fake. A boss. A writer. An actor. A genuis. A friend. Big, big heart. Goodbye."
Caroline was diagnosed with lung cancer in 2014, having earlier battled and beaten eye and bladder cancer. She had also battled alcoholism and depression throughout her life, a life that became public property with the success of spoof chat show host Mrs Merton in the mid 1990s.
Mrs Merton producer Peter Kessler attributed her problems to the fame she deserved but found difficult to deal with.
He told Radio 5 Live: "This is really one of the great tragedies of my professional life that I have watched happen, that is when we started working, Caroline was an innocent, happy young woman with an immense talent.
"By the end of two seasons she was a celebrity and it was only too obvious that she found it very, very difficult to deal with being a celebrity."
Peter continued: "There wasn't a great deal she had to fall back on to act as a buffer against that intrusive world of media attention.
"What she therefore tended to rely on was people who she thought she could trust. And the thing is as you gain celebrity, more and more people present themselves to you as 'I am the person you can trust', and it becomes extremely confusing for an innocent person."
Ricky first met her in the 1990s. "I was with Rita, my wife, and I'd been nominated for something at the Royal Television Society," he said. "There was a buffet and I went over and Caroline was in front of me. She turned round and said, 'Oh! You're my dad, aren't you?'
"And I went back to my table and said to Rita: 'That girl. She's had too much to bloody drink, Reet. She thinks I'm her dad!'
"Next day we got a call – 'Can you go up to Granada to do a read-through?' So I went and that was it."
Ricky grew emotional when he recalled her generosity and warmth on the set of The Royle Family.
He said: "When you went to work you'd have a beautiful dressing room, with flowers, a card and message from her and a bowl of sweets.
"She really cared. She used to send out to Sainsbury's and get me half a dozen cans of mild beer. And if they worked late, there might be 30 on the set and she would send out for 30 takeaways.
"Whatever you wanted. Every week when you finished filming there would always be a little present. A little bag of goodies and a Lottery ticket for everyone. It was those little things I loved her for. She was one of a kind."
Ricky revealed that although he hadn't been in touch with Caroline recently, he thought her health was improving.
He said: "Her death is the biggest shock in the world. It's knocked me for six."
Get the latest updates, reviews and unmissable series to watch and more!
Thank you for signing up to Whattowatch. You will receive a verification email shortly.
There was a problem. Please refresh the page and try again.