Russell Brand: Fatherhood gives me something fame, drugs and sex didn't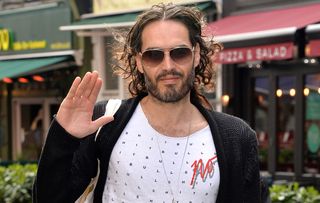 (Image credit: SilverHub/REX/Shutterstock)
Comedian and actor Russell Brand has welcomed the transformation he's undergone since the birth of his daughter, Mabel
Russell Brand has said fatherhood has satisfied something in him that he previously tried to fill with fame, sex and drugs.
The comedian and actor, 41, welcomed daughter Mabel with partner Laura Gallacher in November.
Asked whether parenthood had satisfied something once placated by more rock 'n' roll pursuits, Russell told NME: "Yeah, it has.
"The corollary of each of those things is transcendence of self.
"Fame means a version of you exists that is not you. Drugs take you out of yourself. Sex takes you out of yourself. They're all sort of transcendent.
"Fatherhood, literally, another person comes out of you and is of you.
"What it makes you realise, and this is the opposite of the con trick because you don't want to believe this is true, but you can't be happy if all you do is spend your time trying to make yourself happy."
Russell recently returned to live radio for the first time since the 2008 Sachsgate scandal.
Discussing the fact he has been referred to as a 'high-wire' act, he said things are different now.
"I don't want to fall off," he said. "I've got responsibilities now. I do like flirting with danger, but I'd prefer not to fall."
Russell admitted being famous has its downsides and said it was 'bewildering' at its height.
He said: "The problem with luxury is that all of your needs are fulfilled as soon as you have them, forcing you to realise that you cannot be fulfilled in that way.
"Being a celebrity is like that. It's bewildering.
"All of that fame and glamour and being in newspapers and flown around in jets, you think it's about you, but that's just the symptoms of someone else making money from you."
The star said when he started out in Hollywood he believed the gushing praise showered on him by people in the industry.
He said: "In the car after about five of these meetings I turned to my manager and went, 'It's weird, because everyone says people in Hollywood are manipulative liars, but they're actually really nice and honest!'
"I didn't realise until afterwards. 'Hold on a minute!' When you interface with someone on the level of their ego, there's no limit to what you can get them to do.
"It's not easy to realise when you're in the midst of that because it's too brilliant. I mean 'brilliant' in the sense of blinding bright lights."
Russell also talked politics in the wide-ranging interview, warning that 'the end of democracy' could be near.
The star was in the headlines in 2015 when he urged people to vote Labour after repeatedly saying they should not vote.
He told NME: "My opinion on voting is evolving.
"We might be witnessing the end of democracy, although it may be hard to observe in the time-frame of one human life.
"It makes you question whether any real change can be delivered."
Get the latest updates, reviews and unmissable series to watch and more!
Thank you for signing up to Whattowatch. You will receive a verification email shortly.
There was a problem. Please refresh the page and try again.