Russell Kane turns adventurer: 'I'm Bear Grylls without the skills'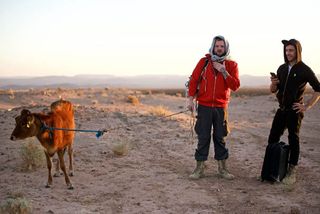 (Image credit: BBC/Objective Media Group/Rob Si)
TV&Satellite Week chat to comedian Russell Kane, who finds himself in a hostile environment armed only with a smart phone in a new BBC3 survival programme, Stupid Man, Smart Phone....
Are you the outdoor type?
"I was in the Scouts as a kid and I quite enjoy camping, but only in a really modern tent at a lovely, clean campsite that has a block of showers. As far as doing survival stuff is concerned, having no shelter, no access to a toilet, that's just not me at all."
So your lack of Action Man credentials makes you perfect for BBC3 survival show Stupid Man, Smart Phone, which sees you dropped into a dangerous environment each week with only your trusted smart phone to help you survive!
"I'm like Bear Grylls without the skills. I confess to over-rely on my smart phone in my day-to-day life. I can use it to solve a plumbing emergency or find out whether a plant in my back garden is poisonous just by Instagramming a picture. The show asks how far we can take this idea.
"Can I be dumped in, say, the Arctic Circle, armed with just a smart phone, a strong Wi-Fi signal and a bag of basic equipment? Our smart phone is the ultimate robot butler assistant that knows the answer to everything."
Do you get any help?
"In each episode I'm joined by a different star of social media and will be able to call on their millions of online followers to help solve any problems we encounter. In the opening episode I team up with internet prankster Arron Crascall in Morocco, where we are tasked with transporting a camel from the town of Skoura across the Sahara Desert to the city of Ait Ben Haddou.
"You'll think you're watching Laurel and Hardy when you see Arron and me struggling with the camel.
"If you're over 30, the chances are you've never heard of Crascall, but his internet profile is huge. Arron has four million followers on Facebook. To put that into perspective, I have 100,000."
Arron and Russell boss the situation (BBC/Objective Media Group/Rob Sixsmith)
So were Arron's followers helpful when called upon for help?
"There was a moment where we were trying to start a camp fire in the Sahara, but struggling to find anything flammable to put on it. Arron messaged his online followers asking for help. There were lots of people just saying, 'Oh, I love you Arron!' But some were able to offer genuinely useful advice."
Did you suffer physically and mentally while filming the show?
"As well as the physical, mental and emotional traumas you expect to suffer, I had to contend with being apart from my baby daughter, Mina, who was born just before filming began.
"It was really tough. I'd get back from filming one episode and just when I was getting my energy back and stopping being a moody so-and-so, it was time to go away and film the next episode. It's so lovely to be able to spend time with Mina now."
Stupid Man, Smart Phone premieres on BBC iPlayer on Sunday, May 2 at 8pm
Get the What to Watch Newsletter
The latest updates, reviews and unmissable series to watch and more!