Ruth and Eamonn's Valentine's Day secrets: 'It's easy to be romantic with someone you fancy'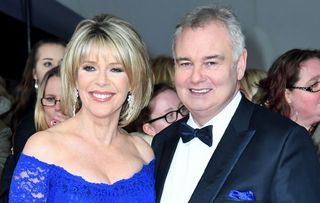 (Image credit: Doug Peters/EMPICS Entertainment)
It's nearly Valentine's Day, so TV Times exclusively caught up with on screen Mr and Mrs, Ruth Langford and Eamonn Holmes, to talk love and romance...
Hi Ruth and Eamonn! Do you love Valentine's Day or is it just another event you have to buy a card for? Eamonn: "What's there not to like about a day that reminds you, and gives you a chance to celebrate, that you are lucky enough to have love in your life?" Ruth: "When Eamonn puts it like that I agree, but I do find it a lot of faff because he already knows I love him."
Aww. Any plans to celebrate February 14th this year? Ruth: "We will definitely not be going out; I'm not comfortable putting ourselves in a shop window for everyone to look at. We make a point of exchanging cards with nice sentiments and Eamonn always sends me flowers."
What would be your perfect way to spend the day? Eamonn: "My dream Valentine's Day would be with Beyoncé! No, any day spent with Ruth is Valentine's Day to me." Ruth: "Being together and pampered at a beautiful spa would take some beating."
Any Valentine's Day disasters? Eamonn: "The year we went to the London Eye for a private meal in one of the pods. It turned out 'private' meant two waiters and two security guards to make sure passengers didn't become too romantic."
If money was no object and time wasn't an issue, what would you love to buy for each other? Ruth: "It would be nice to celebrate with an experience that was new to both of us. Neither of us has seen the Northern Lights before and I think there would be something quite magical and romantic in that."
Finally, what makes each other the perfect Valentine? Ruth: "Because he's the love of my life and he's always romantic even with when I forget to be." Eamonn: "Because I never stopped fancying her and it's easy to be romantic with someone you fancy."
Ruth and Eamonn co-host This Morning on ITV
Get the latest updates, reviews and unmissable series to watch and more!
Thank you for signing up to Whattowatch. You will receive a verification email shortly.
There was a problem. Please refresh the page and try again.