Sally Lindsay: 'I didn't tell Ordinary Lies producers I was allergic to dogs!'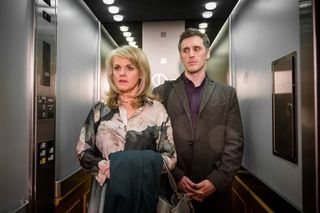 (Image credit: BBC/Red Productions/Ben Backhall)
Former Coronation Street star Sally Lindsay reveals how Kathy gets up close and personal in Tuesday's Ordinary Lies (BBC1) - and how she kept her own secret from the shows producers...
What's Kathy's role at JS Motors?
"As office manager, Kathy's in charge of everything at the showroom and you could say she's the glue that holds the team together. Kathy's very kind and has a good heart, but she's also a bit of a busybody and loves a gossip – she likes to know everything about everyone."
We learn more about Kathy's personal life this week. What can you tell us?
"Kathy's very happily married to Ralf (Benidorm's Tony Maudsley), she's got two children and she loves nothing more than to walk her dog, a huge Newfoundland called Titch. On the surface, Kathy comes across as quite straight-laced and seems to have her life sorted."
We soon discover, though, that Kathy's got something to hide. Having not slept with Ralf in six years, she's secretly meeting a man, Niall (ex-Holby star Edward MacLiam), for some intimacy. What's making her live this double life?
"Kathy's story is happening to normal, 40-something women all over the country who look just like me, but people don't usually get to see that on telly. Women don't just have kids then everything shuts down – they have needs and Kathy just wants to be desired. This is the real story of a woman's sexuality and it really fascinated me."
How did you feel about filming your love scenes?
"I'd worried about them every night for two months, but Ed was fantastic to work with, so everything was fine in the end. As a 41-year-old mother of four, I found the scenes quite liberating!"
Kathy wants to keep her meetings with Niall a secret, but there's a dramatic turn of events. What happens?
"Kathy ends up being in the wrong place at the wrong time and she sees something she shouldn't. This incident doesn't fit her structured life and Kathy wants to do the right thing. Whether she does on not, you'll have to wait and see…"
What's the last lie you told?
"When I auditioned for Ordinary Lies, I kept it secret from the producers that I'm actually allergic to dogs! I lied because I really wanted the part, but it meant I had to take medication for months then work with a dog that slobbered everywhere and was literally the size of a grown man!"
Get the latest updates, reviews and unmissable series to watch and more!
Thank you for signing up to Whattowatch. You will receive a verification email shortly.
There was a problem. Please refresh the page and try again.