Sally Lindsay: 'You'll have never seen me like I am in Ordinary Lies before. There's a lot of sex!'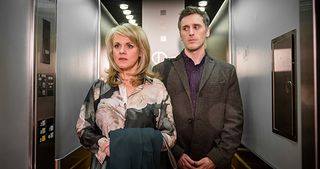 (Image credit: BBC/Red Productions/Ben Backhall)
We're only a few weeks into BBC1 drama Ordinary Lies, but busybody PA Kathy, is already one of our favourite characters.
So it's rather a surprise to learn that Kathy is hiding a shocking and rather saucy secret of her own. Sally Lindsay (opens in new tab), 41, who plays Kathy tells TV Times (opens in new tab) more..
How do you see Kathy?
"She has been at JS Motors since she was 17 so she knows everyone's business and thinks she runs the place. I've never played a character like this before because she is not vibrant or bubbly she's just ordinary, and that's the essence of this drama; it's about extraordinary things happening to ordinary people and viewers can think, 'That could be me.'
"I think I get away with playing ordinary because I look like everyone else; I'm not glamorous."
What can you tell us about Kathy's secret?
"I can't say much as it would ruin it! She has a fantastic home life with her husband [Benidorm's Tony Maudsley], but she is harbouring a big secret as she comes up to her 40th birthday. It's the story of a woman's sexuality; she wants to feel attractive, but it is pretty extreme what she does, you'll have never seen me like this before – there's a lot of sex!
"But then she sees something horrific that she shouldn't and another lie starts. So she has spent all her life trying to do the right thing but she ends up in a situation she has no control over. It is edge-of-the-seat stuff."
Kathy is a dog lover, what was it like working with her huge Newfoundland?
"Oh, she is obsessed with her dogs and they bring her comfort, but I am actually allergic and I had to take tablets before we started filming.
"The dog was the biggest one I have seen in my life. Hilariously, it's called Titch and it was lovely, but slobbery and so massive, it looked like a man in a dog outfit. I kept thinking he would unzip it at lunchtime and come out and have a fag!"
Had you worked with any of the cast before?
"I've known Jason Manford for years and worked with him when he was about 17 and I know Max Beesley too because he's a drummer and so is my husband.
"I also know Jo Joyner because we both have twins and when we met at something like Pride of Britain, we had a moan about our tiredness! We've actually been up for the same parts loads of times because people think there's a similarity between us. Now we've both been in this, maybe we've broken that myth, because we're really different in it. She's the hot babe in the office!"
It's nine years since you left your role as Shelley Unwin in Coronation Street, do you still have fond memories of the show?
"It's still one of my favourite jobs ever, I loved it and I always will. It was the best training course because you have to learn lines quickly and trust your instincts. I also worked with brilliant actors who were always on their game like Bill Roache. He always knew his lines and was never late."
Who has been your biggest inspiration?
"My beautiful Betty Driver [who played Corrie's Betty Williams], I've always aspired to be like her. She was everything I wanted to be in an actress; she was funny, she could emote at the drop of a hat and fill a room with her presence.
"Betty was a good woman, too; she looked after people and she was always excited by coming to work, too. She didn't start in Corrie until she was nearly 50 and was there into her nineties and I'd love a retirement job like that!"
What's next for you?
"I've just done a little pilot with Mark Benton for BBC3 from the production company that did The Inbetweeners. It's a comedy, so no more crying, but lots of laughing. I'm so lucky to be able to be seen for both sorts of work though; I love my job."
Get the latest updates, reviews and unmissable series to watch and more!
Thank you for signing up to Whattowatch. You will receive a verification email shortly.
There was a problem. Please refresh the page and try again.