Sarah Lancashire: 'Happy Valley is one of the hardest jobs I've had. It's brutal'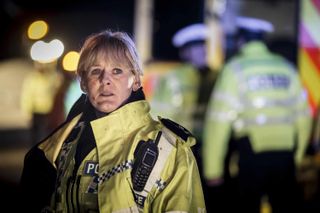 Former Coronation Star Sarah Lancashire tells us why she won't be tuning in to her dark new BBC1 series, Happy Valley…
Tell us about the character you play, Sgt Catherine Cawood…
"She's been a detective most of her working life, but her daughter Becky committed suicide eight years ago after having been raped, and Catherine ended up raising her grandchild, so she went back into uniform because the shift work was much easier. She's not a maverick, she's a police officer who does everything by the book but, as the series gets darker, she can't do anything by the book and the nature of the piece changes quite dramatically… It becomes about Catherine's need for justice for her dead daughter."
Why 'Happy Valley'?
"The title is what the local police force refer to this area as because of the major drug problem. Drugs are part of the storyline. There are a number of threads that collide and then it all starts to make sense."
So how does it start?
"What kicks it off is the person who raped Catherine's daughter was sent to prison, but for drug offences. He didn't go down for the rape. Now he's out and she needs to find him, to get to him. Meanwhile, we have a kidnapping and these threads all start to tie in. It does get extraordinarily dark and it's not pretty to watch - you're watching Catherine having a nervous breakdown. It's one of the hardest jobs I've done. It's brutal."
Will you watch it yourself?
"I never watch anything I'm in! I go away from filming every day knowing I made the wrong choices and you have to let it go. Watching it, you're reopening wounds."
Siobhan Finneran (from Downton Abbey and Benidorm), plays your sister Clare. Are they alike?
"They've both had an unusual upbringing and one of them went one way and the other went the other way - Clare has been a drug addict, in and out of rehab, and Catherine tries to keep her on the straight and narrow. After Catherine's marriage broke down, as a result of the death of her daughter and having to raise her grandchild, Clare moves in with her. It's great working with Shiv (Siobhan). We've known each other for 30 years."
Get the latest updates, reviews and unmissable series to watch and more!
Thank you for signing up to Whattowatch. You will receive a verification email shortly.
There was a problem. Please refresh the page and try again.