Seven times Paul Daniels had us spellbound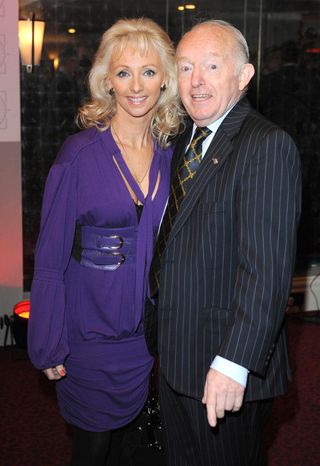 (Image credit: PA Wire/Press Association Images)
A What's on TV celebration of the most magical moments in the career of entertainer Paul Daniels following yesterday's sad news he's tragically been diagnosed with terminal brain cancer.
#1 The Paul Daniel's Magic Show
Running from 1979 until 1994 the series blended comedy, entertainment and magic tricks, often with hilarious audience participation.
And who can forget how North Yorkshire-born Paul rejuvenated a standard slight of hand trick, the three cups, with his Chop Cup Routine.
As well as making Paul an international star, the distinctly British magic show was a big hit for the BBC, pulling in a regular 15 million UK viewers at the peak of its popularity. It was also sold to 43 countries worldwide.
#2 His catchphrases
Imitated by everyone from Johnny-down-the-road to his very own Spitting Image puppet, over the years Paul Daniel's catchphrases have taken on a life of their own. Favourite sayings include:
"You'll like this. Not a lot, but you'll like it."
"Now that's magic!"
"Say 'yes Paul'"
#3 Wizbit
It's hard to explain to anyone who wasn't a child in the 80s the sheer joy of this surreal children's TV show set in the weird world of Puzzleopolis. Main character Wizbit from the planet WOW may have looked like a talking piece of processed cheese, but he delighted countless child viewers in 1985. 
As well as driving the storylines, Paul sang the catchy theme tune!
#4 His marriage to 'the lovely Debbie McGee'
Paul met his second wife, Debbie when she worked alongside him on a magic tour in 1979. They married in 1988 and have been inseparable ever since. Together they've appeared on The Farm, All Star Mr & Mrs, a celebrity version of Wife Swap and When Louis Met Paul and Debbie…
#5 When Louis Met Paul and Debbie
Fans got a rare glimpse into the celebrity couple's private lives when they opened up their home and working worlds to documentary maker Louis Theroux in 2001. As well as having Louis stay with them, Paul and Debbie took him on tour with them, as former ballet dancer Debbie kicked off a new dance company, and Paul made a guest appearance on Ready, Steady, Cook.
Before the credit's rolled, Louis concluded: "Paul and Debbie do seem happy. They genuinely care for and rely on each other... A magic circle of two."
#6 Paul does Strictly
Like Debbie, we cheered from the sidelines as Paul – then 72 years old – strutted his stuff on Strictly in 2010. Sure, he was knocked out in the third week but we couldn't fail to be impressed by the undeniable spring in the magician's step.
#7 Mrs Merton
When Debbie made an appearance on Caroline Aherne's spoof chat show The Mrs Merton Show in 1995, it was ALL about Paul. The question: "So what first, Debbie, attracted you to the millionaire Paul Daniels?" has gone down in TV history.
Watch a clip here
Speaking to The Guardian in 2001, Paul said: "That was a good gag. We liked it because when Debbie met me I wasn't all that well-off; so it was a good gag, funny question."
Get the latest updates, reviews and unmissable series to watch and more!
Thank you for signing up to Whattowatch. You will receive a verification email shortly.
There was a problem. Please refresh the page and try again.