Shipwrecked star Vick Hope: Why Love Island fans will adore the E4 show!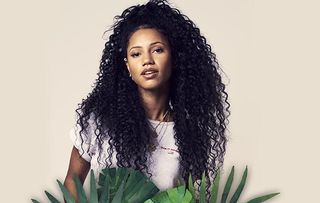 Capital DJ, Vick Hope, talks about life after Strictly and reveals what's in store as Shipwrecked returns tonight for a new series after seven years away....
After seven years away, Shipwrecked is back for a brand new series and will see two groups of contestants  go head to head on two paradise islands.
In the ultimate popularity contests the islanders will be split into two rival tribes, the Tigers and the Sharks and each episode will see new arrivals spend a day and night with each before choosing which tribe to join.
At the end of the eight week adventure, the biggest tribe will win £50,000.
What's On TV caught up with Vick Hope, Captial Radio DJ and recent contestant on Strictly Come Dancing who will be narrating Shipwrecked, to find out more. Here Vick talks romance, underhand island tactics and life after Strictly...
What's On TV: How do you feel about Shipwrecked being back and being part of the show?
Vick Hope: "So excited! I watched Shipwrecked when I was younger and when I was at Uni. Of all the reality shows at the time, this was the one I wanted to be on. Now that it's back, I feel honoured to be part of it. It was really the first reality show to be on TV and came before Big Brother."
WOTV: This is the first series since 2012. Why do you think it's the right time for it to be back on our screens?
VH: "I think after that much time it's still got an audience of people who remember it, but equally it's enough time to have lapsed for it to have a new audience. I think it will inevitably attract fans of Love Island  you've got lots of beautiful people, in the sun, being competitive!"
WOTV: What do you think of the island setting?
VH: "The location is beautiful and looks gorgeous on screen, the perfect sunny TV escapism in deep dark, winter. Apparently it takes two days to get to these little islands, they're literally in the middle of nowhere and you need three plane trips. I'm very jealous of the contestants. They are basically are in the middle of nowhere for 8 weeks, it doesn't look like the hardest place to be! I was on the Strictly dance floor when all of it was being shot."
WOTV: What twists can we expect?
VH: "There are lots of twists, turns and opportunities for people not to have to leave. Some of them get really good at building and surviving, making habitable spaces on the islands. Some of them don't! There are also some incredibly emotional moments. I've actually shed a tear once so far, there's a really touching conversation that happens between some of them about the death of parents, it's a really poignant moment."
WOTV: Are we going to see a lot of game-playing and underhand tactics in order to win the cash prize?
VH: "Well, because they become quite tribal, they will do anything to make sure that their tribe is going to get ahead. At the end of the day it is a competition and whichever island has the most inhabitants by the end of it will win the £50,000. It's crucial to attract new arrivals to your island so they will do anything they can and that includes trying to psychologically put them off the other tribe and the other island."
WOTV: Which Shipwrecked contestants stood out for you and who do you think is going to cause the biggest waves?
VH: "I can't give too much away but Liv is a fiery character and very volatile, you see right from the start how argumentative she can be. Her and another islander, Big T don't see eye to eye at all. Harry is quite a stirrer, they're all such interesting characters who come from different walks of life. It's a very diverse group of people who wouldn't normally mix so that in itself causes explosions. There are some magical moments of joy and happiness but also plenty of drama."
WOTV: Are we going to see any island romances in Shipwrecked?
VH: "Yes, because they're fit and they're young. I've been really touched by the moments of romance that I have seen so far because it was unexpected. There are two couples who are still together! They've not been looking for it, they've gone in to the show to form meaningful bonds and ended up falling in love whereas a few of have gone in looking for a shag, and that hasn't actually been successful."
WOTV: How do you think you would you have coped on this show as a contestant?
VH: "I think the idea of working out who your tribe is and where you fit in is so important. I spent my time at school trying to work out 'Am I preppy? Am I a goth? Do I fit in here?' I went to Cambridge University but came from Newcastle, it felt a bit weird. I'm mixed race. If I'd gone on this show that would be one of the things I'd be trying to work out, 'How do I fit in here?  Who are my tribe?' You see the contestants going through that."
WOTV: What would you take in as your luxury item? And what would you miss the most?
VH: "That's a tricky one! You're not allowed phones or any means of communication so I think I'd take a camera to record all the memories and have my own snapshots. The thing I'd miss the most is music 100 per cent. Every morning I play four hours of it on the radio and I get home and play more! It's everything to me."
WOTV: How would you fare in a practical way? Are you good at making fires or cooking?
VH: "My mum's Nigerian and from a very rural village, she grew up in a war so she always valued skills when it comes to survival. To her it's really important that me and my brothers could fend for ourselves. I was like, 'Mum, we don't need to be able to skin a chicken because I will just go to Nando's', and she was like, "No no no, it's important'. My dad bought me, a Swiss Army knife for my 13th birthday and we used to go camping and he taught me how to build fires.
"I was very outdoorsy, my brothers and I didn't have a TV growing up, and when I got older I  got into mountain climbing and rock climbing for a bit. I climbed Kilimanjiro when I was 18 so I would like to think that I would be quite practical, having said that my friends and brothers would probably disagree! I like to get stuck in."
WOTV: How did taking part in Strictly Come Dancing change your life?
VH: "It was such a huge privilege to be asked to do it. To be on a stage with those people, in the same sentence or room with people who I have loved from childhood, like Faye from Steps and Lee from Blue, that was mad. It was such a special experience. For me one of the loveliest things was connecting with people, all the messages I got from viewers.  I went on holiday for New Year and went travelling on my own in Malaysia and got stopped on tiny beaches in tiny towns, where people would be like 'Hi, you were great on Strictly!" which was so nice, it warmed my little heart."
WOTV: How did you cope with all the publicity around it?  
VH: "Obviously the press around it is crazy, it's not like anything I've ever experienced. But Strictly is such a well- oiled machine, so as a presenter to see the way that it's put together, from the runners to producers, the way Tess and Claudia work, the hair and make up departments, the wardrobe department, I learnt so much from everyone on board.  Everyone is the best in their field and it's incredible to behold."
WOTV: Do you still dance?
VH: "Oh, I always dance. I mean not necessarily well, but every morning as soon as the microphone comes down in the studio I'm dancing around the room to Little Mix. I may have spilt a lot of coffee on the walls and broken parts of the equipment but it's what I love to do.'
WOTV: Who did you bond with most from Strictly?
VH: "Oh, Ashley. Me and Ash! Yeah, we were hanging out, she's my bud."
WOTV: Do you keep in touch with anybody else?
VH: "Yeah, loads of them! It wasn't that long ago and we all got on so well, it was a very close-knit group. And then also the pro dancers, I loved hanging out with Oti and Johannes, just legends."
WOTV: How are you adjusting to people recognising you a lot more now and celebrity life?
VH: "I remember right at the beginning when I first started as a runner at MTV, my mum said, 'Ooh are you trying to be a celebrity or something?' and I said, 'Mum, you know that's not my goal in the slightest', I have no interest, I didn't work so hard writing all this time and starting up the TV channels at my Uni to be a celebrity.
"I did it because I want to make content that I'm proud of. The good thing is, as your profile is raised you get more opportunities , it means I get to work more with Amnesty and do more stuff for women's rights, writing about women's issues. It's about never losing sight of why you came here and remaining true to that."
WOTV: How do you unwind when you're not busy working? What is your dream day of relaxation?
VH: "Nothing feels better than a head massage. There's no better feeling in the world than having your scalp slowly pounded into shape …it just feels soooo good. I did my first bit of mediation recently while I was away and I have to say I feel like a whole new woman, just focusing on breathing and letting everything leave your brain and head. It actually feels really good to just clear your mind every so often."
WOTV: Have you carried on with that then?
VH: "Yes, I've tried to, it's part of looking after your mental health isn't it. We sometimes get so rapped up in being motivated and doing the next thing and the next thing, we need to look after ourselves so I would like to be an advocate of that. You've got to practice what you preach!"
Shipwrecked begins on Monday, Jan 28, at 9pm on E4
Get the latest updates, reviews and unmissable series to watch and more!
Thank you for signing up to Whattowatch. You will receive a verification email shortly.
There was a problem. Please refresh the page and try again.