Silent Witness star Emilia Fox: 'I get to smile in this series!'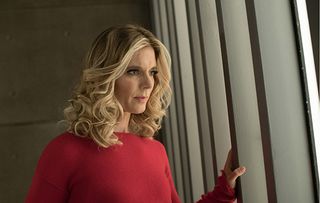 (Image credit: BBC/Sally Mais)
Emilia Fox, who plays Silent Witness pathologist Nikki Alexander, gives TV Times up a heads-up on what's in store as the long-running forensic crime drama returns for a 22nd series…
Silent Witness star Emilia Fox on her joy at the return of the crime drama tonight...
TV Times: Nikki's been through the mill in Silent Witness! How is she doing in the new series? Emilia Fox: "The last one was such a dark time for Nikki, but her relationship with Matt [her US diplomat boyfriend played by Michael Landes] becomes part of the make-up of her life. We wanted to bring Matt back because he was so popular, and we explore the challenges of a long-distance relationship between two people who are fully committed to their jobs. I get to smile in this series!"
TVT: What cases are Nikki's team at the Lyell Centre getting involved in? EF: "One of investigations deals with knife crime and with the huge rise in people using the drug Spice. It's a really horrible drug, and we look at what it does and where it leaves people in their lives, affecting their friendships and families. Colin Salmon plays a headteacher in that story."
TVT: Were there any particularly memorable scenes during filming? EF: "We filmed one very smelly scene for this series. We had to sort through the most enormous pile of cigarettes butts I have ever seen. If ever there was an advert for not smoking, it was that!"
TVT: How do you relax while you are working on the show? EF: "During filming, David Caves [who plays Jack] and I were doing workouts together at the gym. I'm following his health regime. You have only to look at the man to see what great shape he's in! This show makes me aware of how lucky we are to have that kind of good health."
TVT: Has the subject matter of Silent Witness affected your outlook? EF: "Silent Witness makes you think about life and death. It makes you acknowledge how incredible the human body is – how strong it is in so many ways, and how utterly fragile in others. And how desperately sad it is that life ends up on a mortuary slab with someone you don't know having a look inside you."
TVT: Does the job of pathologist appeal to you? EF: "I wish I could do something really clever…I would definitely be a doctor if I had my time again. But I don't have the brain to do it, I really don't. The only thing I've got is the capacity for learning lines!"
TVT: What do fans ask you about the show? EF: "Lots of medical students want to talk to me about Silent Witness. They say: 'We're studying pathology and we want to get into forensic science', and I just love that! OK, Nikki's a character in a fictional series, but if it makes someone go: 'I think I might explore that', then that's great."
Silent Witness returns to BBC1 on Tuesday 8 January at 9pm
Get the latest updates, reviews and unmissable series to watch and more!
Thank you for signing up to Whattowatch. You will receive a verification email shortly.
There was a problem. Please refresh the page and try again.