Sling just fixed one of our biggest complaints — if you have an Apple TV
You can now bring order to the mishmash that was Sling's channel listings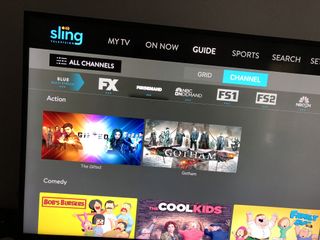 Sling today announced a number of improvements to its Apple TV app. And so that we won't be accused of burying the lede — you can now sort your channels alphabetically, instead of being burdened by whatever that crazy scheme Sling had before was.
Or to put it another way, Sling TV just fixed the one thing that'd kept me from really considering it for all these years. (And it's yet another reason to take advantage of that Sling TV free trial.)
Here's the full smash of what you have to look forward to with this update:
Grid or Image View – you can now easily toggle back and forth between grid view and image view within the channel filters, so you can quickly get to your channel guide of preference in one simple click. Simply select "Image View" or "Grid View" in the top left corner of your guide.
Sort A-Z – in addition to filtering channels by category, Apple TV users can now sort by "A-Z," so they can view channels in alphabetical order.
My Channels – while in the Sling TV channel guide, Apple TV users can now conveniently add or remove channels to their "My Channels" ribbon by hovering over a channel and holding down on the select key.
"Start Over" button – to start over a movie or show that's already streaming, Apple TV users can select the "Start Over" button in their player controls, instead of rewinding something to the very beginning. This functionality is available on any content that can be rewound.
Get the What to Watch Newsletter
The latest updates, reviews and unmissable series to watch and more!