Is a Sling TV free trial still available?
Sadly there's no longer a Sling TV free trial but there is a new 50% off deal for new customers.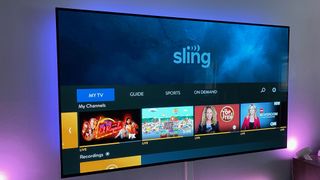 (Image credit: WhatToWatch.com)
We currently rank Sling TV as one of the best live TV streaming services available, but this kind of cable-cutting platform can frequently be pretty expensive — that's why you might be trying to find a Sling TV free trial.
Sling TV is one of the oldest live TV streaming services. These are platforms which let you stream TV over the internet, letting you avoid using a physical cable package — they're also often more affordable than a traditional cable bundle.
With Sling TV, you can watch lots of the most popular channels like CNN, E!, the Discovery Channel, FX, NBC and plenty more.
The service comes with two plans: Blue or Orange, each costing $40 per month and offering a different array of channels (there's also a combined package costing $55 each month).
That's quite a lot of money, so can you test it for free? Sadly no: Sling TV doesn't offer a free trial, but it does have an equivalent in the form of a half-priced first month.
Sling TV offer for new customers — how it works
So, there's currently no Sling TV free trial but Sling has put in a place a great alternative offer, giving new customers half off the first month's subscription (so, $20, instead of the usual $40 monthly Sling TV price, or $27.50 instead of $55 if you get the combined Orange and Blue plan). We think this represents pretty good value for all the channels you get for the price.
Just note:
It's only available for new customers. So you can't have been a Sling subscriber, "Slingers," they call 'em, in the past and use that same email account to the sign-up offer.
After your first month, you'll be billed for Sling every month at the standard price (unless you go online to cancel.)
Although the free trial has gone (for now at least), with this new offer you still get a whole month to try out the service for just $20. That's plenty of time to kick the tires, for a pretty reasonable price.
Even though you get a whole month to test the service, it's still worth making sure you plan your viewing — you don't want to sign up and pay for the offer and then not actually use it very much.
What comes after that Sling TV offer period?
Once your reduced-price trial period has ended, it's time to pay up in full. How much you'll pay depends on what, exactly, you signed up for.
Sling TV packages come in two flavors — Orange and Blue. They cost $40 a month each and share some channels while keeping others exclusive to their own track. If that seems like it's Sling trying to get you to sign up for both the Orange and Blue plans, then you're right. And that'll cost you $50 a month for Sling Orange and Sling Blue — still less expensive than the two leading streaming services, YouTube TV vs. Hulu.
Once you've answered that basic question, it's time to really build out your Sling TV package with all the "Extras." Those are mini-bundles of channels that complete your experience — and start to get you as many channels as the competing services.
It's not a bad deal, really. Your first month for $20 and then the ability to (mostly) build your streaming package the way you want it. Don't care about news channels? Don't buy that Extra add-on. But you will want to keep an eye on how many of those add-ons you're adding on, because $6 here and $15 there and suddenly you're spending a lot more than you anticipated — and even more than you might be spending on one of the competing services that had those channels to begin with.
Does the Sling TV trial include live sports?
Yes! If you're taking advantage of the 50% off your first month offer, you'll most certainly be able to watch live sports. That includes all kinds of Major League Baseball as well as the NFL. If you want to watch Formula 1 online, you can do that with Sling TV, too.
The usual caveats to the way Sling TV does things still apply, though. You'll need to make sure the channels you want are on either the Sling Orange or Sling Blue plan — or you'll need to get both with your free trial. That's the other side of the coin when it comes to the way Sling does things. Yes, you have more control over the channels you're choosing — but that also means you need to make sure you're choosing the right packages.
What else comes with your Sling TV trial period
There's one more little feature of Sling TV that's worth a mention — the DVR service. The "digital video recorder" is sort of a misnomer these days, but what it means is that you're able to "record" shows for playback whenever you want. It's all cloud-based in this case — you're not actually recording anything on your phone or digital device — but the end result is that you can watch what you want when you want to watch it.
As standard, your Sling TV subscription comes with 50 hours of free DVR. That's a great way to make the most of all the shows and movies you might want to catch up on during your first month.
Get the latest updates, reviews and unmissable series to watch and more!
Phil spent his 20s in the newsroom of the Pensacola (Fla.) News Journal, his 30s on the road for AndroidCentral.com and Mobile Nations and is the Dad part of Modern Dad.
Thank you for signing up to Whattowatch. You will receive a verification email shortly.
There was a problem. Please refresh the page and try again.