Does ESPN+ offer a free trial?
By Roy Delgado
If you're not sure about ESPN+, you might be looking around for a free trial. Is it hiding in a link somewhere, or is it gone for good?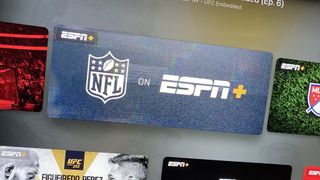 (Image credit: WhatToWatch.com)
Best answer: No, ESPN+ no longer offers a free trial. The service had a free trial previously, but as ESPN+ grew the trial was retired. However, ESPN+ lets you cancel a monthly subscription anytime, making the ESPN+ cost about as economical as it can be.
ESPN+ is a live sports streaming service available to anyone, so it doesn't require a cable subscription. And that makes it popular with just about everyone who's looking for that niche sport that might not be on TV, or who's looking to go above and beyond what can be found in the traditional outlets.
If that sounds too good to be true — it's not. ESPN really does have a ridiculous amount of live sports that you simply can't find anywhere else in the United States. That's true for just about any sport you can think of, too. Football. Football. (As in soccer.) Baseball. MMA. Cricket. Boxing. Basketball. The list goes on and on.
And the strategy has worked. ESPN+ hit its first million subscribers in late 2018. Halfway through 2021 it had nearly 14 million subscribers.
Save on ESPN Plus with the Disney bundle
ESPN+ on its own is great. But ESPN+ as part of the fabled "Disney Bundle" is even better. (It's also what ESPN+ will try to sell you out of the gate.) Here's how it works:
Instead of just getting ESPN+, you'll get that service, plus Hulu and Disney+, all for $13.99 a month. That's all three services for what amounts to the cost of just two of them.
And you can build things out from there. If you want to get rid of advertising on the Hulu on-demand content, you can pony up a few more bucks to do so. But where things really get interesting is if you add Hulu With Live TV into the mix. For $72 a month you get ESPN+, Disney+ and Hulu With Live TV — which also still includes the on-demand content available on Hulu. That's just $7 more a month than if you were to get Hulu With Live TV on its own. And that's a really tough deal to pass up, especially when you're getting the most popular live TV streaming service in the process.
How to sign up for ESPN+
Visit the ESPN+ splash page .
Click the button labeled Sign Up Now.
Log in with your ESPN.com account. If you don't have an account, you can click Sign Up link to create one. You can also login with Facebook if you prefer.
Enter your payment information, including credit card and billing information, or choose to link to PayPal. Click Buy ESPN+.
Check the information to make sure it is correct, and that you have selected the correct plan for you. ESPN+ will show you how much you will be billed, and when it will renew.
You will see a Success page if everything is done correctly.
Click Get Started to start watching ESPN+ as part of your free trial.
Congratulations. You're now signed up for ESPN+. There may not be a trial, but you can watch as much as you want in the first month for only $6. Remember to check back before the end of the month if you decide to send ESPN+ to the locker room and cancel it. Otherwise, stick around and enjoy some of the best live sports streaming anywhere.
Get the latest updates, reviews and unmissable series to watch and more!
Thank you for signing up to Whattowatch. You will receive a verification email shortly.
There was a problem. Please refresh the page and try again.