'We have stories about the Queen you won't have heard before!'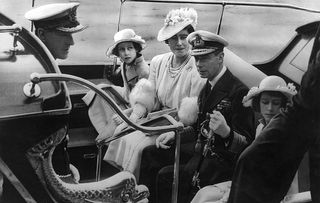 (Image credit: Getty Images)
Lord Charles Colville reveals C5's new in-depth and insightful documentary series about the Queen talks to the people who know her…
Queen Elizabeth II has been scrutinised, photographed, filmed, and fictionalised her entire life, so you'd be forgiven for thinking there's nothing new to learn. However, this new eight-part documentary on Channel 5 proves there's still plenty we don't know.
We talked to Series Producer Lord Charles Colville, who reveals the energy put into the making of Elizabeth: Our Queen for C5, and how he managed to secure interviews with some of the Queen's oldest friends…
What makes this series about the Queen different?
"The Queen is the most famous yet mysterious woman in the world. The reason for that is the people around her are extremely discreet. There's a deliberate attempt to keep the private Queen enigmatic and unknown. The idea here has been, wherever possible, to speak to people who are very close to the Queen. That includes prime ministers, private secretaries and friends. And so we have stories throughout the series about this extraordinary but mysterious woman we won't have heard before."
Was it difficult to secure interviews with people like the Queen's childhood friends Lady Butter and Lady Penn?
"To get the Queen's friends and members of her household to talk about her demands a certain level of trust. Our team worked very hard to get these incredibly generous interviews from those close to the queen. Lady Butter said this may be one of her last interviews. Lady Penn was lady-in-waiting to the Queen Mother and also a longstanding friend of the Queen's and Princess Margaret. Quite rightly, they expected a degree of trust that we'd treat them and the Queen fairly."
What are your favourite stories about the Queen and her family from the series?
"The Queen Mother's advice to the Queen when she was young to always walk through the middle of a doorway rather than slink around the edge, is charming. It's good advice for anybody really, as it shows confidence. There's also a lovely bit where Lady Butter talks about Prince Philip taking Prince Charles to Gordonstoun School for the first time. When Prince Philip came back to Balmoral he helped himself to a stiff drink, which he doesn't normally do, which shows a really human and vulnerable side to him."
This week's opening episode covers pivotal moments including King Edward the Eighth's abdication in 1939 and the death of King George VI in 1952…
"These first 27 years of the Queen's life are absolutely formative. In this first episode we see that the Duke and Duchess of York and their daughters Princess Elizabeth and Margaret spent a lot of time together, which was unusual. They talked of 'us four'. That all suddenly changed when Elizabeth's uncle, Edward the Eighth, abdicated. As future heir Elizabeth had to be educated in constitutionality and the importance of political neutrality. The urgency of shaping herself as heir to the greatest empire on earth, at the time, must have been an extraordinary burden."
What do you uncover?
"There are lovely stories, which I'd never heard before, which tend to tell us something big. Princess Margaret's friend Lady Glenconnor tells the story of how, when they were children in Buckingham Palace, she and Margaret would hide behind doors and jump out and yell 'boo' at the Pages. And the Queen would tell them they were very naughty! It says something warm and marvellous about the Queen's sense of responsibility from an early age, and how much more freedom Princess Margaret had. The fact is some of these friendships go back 80 years, which is incredible."
We're big animal lovers here. Do you touch on the Queen's love of corgis and horses?
"We definitely have horses and corgis in the documentary. We've got a rather nice interview later on with one of her horse trainers, which is quite revealing about the Queen and animals. However, we didn't have any special access to the corgis! Even so I hope people very much enjoy watching the series, because it does show some interesting glimpses into an extraordinary woman."
Elizabeth: Our Queen begins on Tuesday 6th February at 9pm on Channel 5 and runs for eight episodes.
Get the latest updates, reviews and unmissable series to watch and more!
Thank you for signing up to Whattowatch. You will receive a verification email shortly.
There was a problem. Please refresh the page and try again.