Strike star Tom Burke on its return: 'We've got good vibes from JK Rowling!'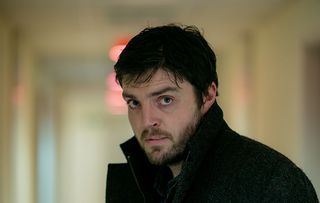 (Image credit: BBC/Bronte Film & TV Ltd/Steffan)
Tom Burke on the return of Strike and getting the thumbs up from writer JK Rowling
Dishevelled private detective Cormoran Strike (Tom Burke) and his eager assistant Robin Ellacott (Holliday Grainger), are back for new two-part case, Career of Evil, based again on the best-selling Strike novels written by JK Rowling under her pen name Robert Galbraith. When they receive a macabre parcel containing a severed leg, they both have to revisit the darkest moments from their pasts as they try to work out who has sent it, but it becomes clear a killer is on the loose.
Here, Tom Burke tell TV Times more about the return of Strike…
TV Times What impact does the case have on them?
Tom Burke: "This investigation leads Strike to revisit and try to get closure on some of his old cases. You get the feeling that they are like ghosts that keep him awake. We see Strike opening up to Robin about his past. She is also opening up to him and they are very protective of each other."
TVT The investigation also brings up memories of Strike's late mother, how does he cope with that?
TB: "There is a raw nerve at the heart of it all to do with his childhood. His mother's death was hugely traumatic and unresolved but it has been pushed to the periphery like his feelings for Robin…"
TVT Are he and Robin getting any closer?
TB: "Well, her wedding to Matthew [Kerr Logan] is now on the horizon. But in a weird way, the danger of this case puts Strike and Robin in a special little space together because they are stuck in a grim situation. There is something there but they are in denial and trying to pretend it's not. They don't feel in a hurry to do anything about it!"
TVT What was it like seeing the prosthetic severed leg on set?
TB: "It didn't look nice and it felt very real to touch, all cold and with a slight give to it. I don't know if could do the work that our prosthetics team do every day, coming in and carving a hacked-away shinbone. Rather them than me!"
TVT Robin and Strike's investigation takes them to Cumbria and they drive there in a battered Land Rover, was that fun to film?
TB: "Yes and Holliday was brilliant driving it, because it was a really rusty old banger. I wouldn't have known what I was doing if I'd been driving. She was doing three-point turns and all sorts!"
TVT Do you get much feedback from JK Rowling?
TB: "With actors, Jo says what they need to hear and not a word more. You have to listen carefully. But she is only involved up to a certain point. Then it is very much our thing to get on with. I think she enjoys watching it and being surprised. We have had good vibes from her."
TVT What reaction have you had from viewers?
TB: "Because Robin and Strike's office is in Soho, taxi drivers often say to me. 'When I am driving around Soho, I wonder what they are doing.' That's really nice because it shows they care about these people."
TVT Are you a fan of other crime dramas?
TB: "Oh I can watch any detective show, I love them! I like True Detective and I really like Death in Paradise because it is so enjoyable after a hard day's work. My favourite TV detective though is Joan Hickson as Miss Marple, but Julia McKenzie was fantastic playing her too. I am quite good at guessing whodunits. Once or twice I have even sat down with pen and paper writing down all the clues and trying to work it out!"
Strike - Career of Evil airs on Sunday 25 February on BBC1 at 9pm
Get the latest updates, reviews and unmissable series to watch and more!
Thank you for signing up to Whattowatch. You will receive a verification email shortly.
There was a problem. Please refresh the page and try again.