Sunetra Sarker: It was 'astonishing' finding my family's links to Gandhi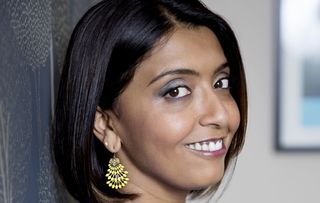 (Image credit: BBC/Stephen Perry/Wall to Wall)
Sunetra Sarker reveals how her astonishing ancestors on Who Do You Think You Are? have inspired her to step out of her comfort zone post-Casualty
Sunetra Sarker uncovered some remarkable ancestors when she headed to India to trace her roots for Who Do You Think You Are?
The former Casualty star revealed all to TV Times…
Why did you want to do Who Do You Think You Are? "I'd been in denial about my history and hadn't taken an interest in being Asian because growing up in the 1970s, you didn't acknowledge being Indian if you were born in Liverpool and trying to forge your own identity. But then I became aware of how little I knew and how much I want to pass on."
Your great-grandfather Naresh Sengupta was a hero, wasn't he? "I just thought he was a lawyer, but he was also a political activist who fought for Indian independence and a writer who corresponded with Tagore, the author who is revered as the Indian Shakespeare! Naresh was all for girl power, too. He stood up for women, wrote about women having feelings and encouraged his daughters to find their passion, he even let my grandmother became a radio singer."
You also uncovered a link to Gandhi too; was that exciting?! "It was astonishing. Naresh encouraged his sister Charuprabha to be an activist too and she got into Gandhi's inner circle. I couldn't believe we were connected to this huge figure in Indian history. It was a dream holding the letters they wrote to each other. But she had such guts, she went to prison twice for her activism and had five children – talk about multi-tasking!"
Your journey ended in Bangladesh, where Naresh's wife Labanya was from. Was it emotional to see her former home? "I broke down thinking about my late grandmother and how lucky I was to walk where her mother lived. It was like Downton Abbey, because Labanya's family were lords of the village, but treated everyone fairly. A 92-year-old man there told me he could write and speak English because he'd been taught by my family. But it was awful when I discovered that some of my relatives were slaughtered in the 1971 Bangladesh War of Liberation."
Have your discoveries changed you? "I'm taking on more challenges and being a lot braver. There's something in me now that makes me think, 'Let's do better. What's the next thing to push for?' And that has come from my great-grandparents."
Chang the subject, you left Casualty last May, do you miss it? "Absolutely. Zoe Hanna found a place in people's hearts. I can't escape her, everywhere I go, somebody wants to talk about her. After eight years, it was time to go, but I'm still in touch with the cast; we're family. I spent New Year with Jane Hazlegrove, who played Dixie, and I texted Michael French, who played Zoe's ex-lover Jordan, today. Jordan and Zoe are still dear to us and we always laugh about those days."
Do you still keep up your dancing after Strictly [Sunetra came seventh in 2014]? "Occasionally I do an American Smooth move! But what Strictly gave me, apart from the lovely dresses, was the people. I'm still in a WhatsApp group with my fellow contestants like Alison Hammond, Frankie Bridge and Judy Murray. We speak daily and I went to Steve Backshall's wedding."
You've just been in Death in Paradise and we'll see you next in Broadchurch… "Oh, Death in Paradise was great, I felt like a competition winner! Broadchurch was brilliant, too; they were the loveliest crowd. Olivia Colman was kind because I was nervous working with her and David Tennant. I also made a friend in Jodie Whittaker. I play her boss and she was such a giggle."
What is next for you? "A Channel 4 drama called The ABC. It's about an Asian school merging with a white school in Yorkshire. It's another new journey for me as I'm playing an Asian lady as opposed to British Asian for the first time in ages and I'm not shying away from that like I would have 20 years ago. I feel comfortable about being Indian now."
Who Do You Think You Are? screens on Wednesday, February 22 on BBC1 at 8pm
Get the latest updates, reviews and unmissable series to watch and more!
Thank you for signing up to Whattowatch. You will receive a verification email shortly.
There was a problem. Please refresh the page and try again.