Tales That Witness Madness (1973) | Blu-ray release - Check into the all-star British horror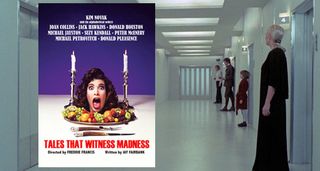 Stroll down the corridors of a mental asylum, where your mind won't believe what your eyes see. In the tradition of Tales from the Crypt and Creepshow comes this classic British 1973 anthology of horror tales helmed by horror favourite Freddie Francis, and featuring an all-star cast including Donald Pleasence, Joan Collins, Jack Hawkins and Kim Novak.
At London's Department of Psychiatric Medicine, Dr Tremayne (Pleasance) believes he has unraveled the mystery behind four bizarre incidents of mental 'aberration'. When concerned colleague Dr Nicholas (Hawkins) visits the clinic, the doctor relates his patient's stories, which involve an invisible tiger, a time-travelling vintage bicycle, a living tree, and ritual cannibalism.
Tales That Witness Madness followed in the wake of the Amicus-produced anthology films which were big business in the 1960s and 1970s, and it was written by Jennifer Jayne (under the pseudonym Jay Fairbank), who played Donald Sutherland's French vampire wife in Fisher's Dr Terror's House of Horrors (1965).
Hollywood star Kim Novak was a last minute replacement for Rita Hayworth and broke a four-year screen hiatus to appear in the film's grisly final segment involving human sacrifice, with the victim being Mary Tamm, who is best known as Romana in the classic Doctor Who series, as well as for her appearances in Brookside, Coronation Street and EastEnders.
The British chiller is out now on HD Blu-ray and DVD in the UK from from Fabulous Films/Fremantle Media
Thank you for signing up to Whattowatch. You will receive a verification email shortly.
There was a problem. Please refresh the page and try again.