The Creature Walks Among Us (1956) | The monster movie classic claws its way onto DVD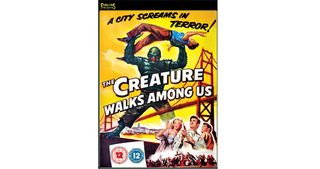 This Universal sci-fi is the final film in the classic B-movie monster trilogy, The Creature from the Black Lagoon, and its now out on DVD in the UK from Fabulous Films, as part of their Fabulous Frights series.
In his quest to further man's conquest of space, the obsessive Dr Barton (Jeff Morrow) leads a team of scientists into the Florida Everglades to track and capture the infamous Gill Man. But when the creature sheds his gills after being burned in a fire, the team discovers a lung system that's more human than fish-like. Locked up in a secure medical facility, the Gill Man suffers more experimentation under Barton's watch, but the unhinged doctor starts losing the plot when he becomes convinced his abused wife Marcia (Leigh Snowden) is having an affair.
While it's certainly not as iconic as the 1954 original, The Creature Walks Amongst Us is remain a stern attack on animal experimentation and a chilling reminder that's man is the real monster walking amongst us.
DID YOU KNOW?
The creature's iconic costume ended up being dumped after production finished on this picture, but the mask and claws were saved from destruction when a studio janitor retrieved them to give to his son to use as a Halloween costume. They were later bought by well-known film memorabilia collector, Forrest J Ackerman, the editor of the cult US horror magazine, Famous Monsters of Filmland.
The Fabulous Films DVD release includes original trailer and three galleries.
Get the latest updates, reviews and unmissable series to watch and more!
Thank you for signing up to Whattowatch. You will receive a verification email shortly.
There was a problem. Please refresh the page and try again.