The Duchess on Netflix - start date, cast, plot and everything you need to know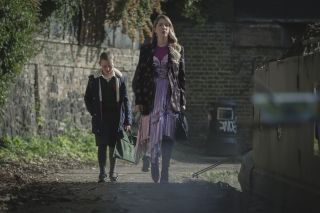 (Image credit: Simon Ridgway/NETFLIX © 2020)
Stand-up comic Katherine Ryan's sitcom about a disruptive single mum has just dropped on Netflix...
The Duchess, a new sitcom written by and starring Katherine Ryan, is now on Netflix. Here's everything we know about the show so far...
The Duchess start date: when does it launch on Netflix?
All six episodes of The Duchess are now available to watch on Netflix (see our TV Guide for more shows to enjoy).
The Duchess plot: what's it about?
The sitcom centres around Katherine, who's a bad person - but a good mother. She's completely devoted to her daughter Olive, but when Olive makes it clear that she would like a younger sibling, Katherine is left in a difficult position. After a visit to a fertility clinic leaves Katherine entirely disappointed with the standard of donors on offer, she finds herself wondering if the obvious answer is to enlist Shep - Olive's father and Katherine's nemesis.
Katherine and Shep disagree on almost everything, but the one thing that unites them is that Olive turned out brilliantly - so why mess with a winning recipe? But will Katherine come to regret getting involved with Shep again - and will her plans get in the way of her budding romance with handsome dentist Evan?
MORE: Everything you need to know about new Tom Hollander comedy drama Us (opens in new tab)
Cast: who's in it?
Katherine Ryan - who also wrote and executive-produced the series - stars as Katherine, with newcomer Kate Byrne as her daughter Olive. "As soon as I saw Kate, I knew that's who I wanted," Katherine tells us. "She just has this ethereal wisdom and beauty about her. I always elevate my own child in my stand-up, and I wanted this child to be special because Katherine is willing to make terrible, terrible compromises to have another just like her."
Australian comedian Steen Raskopoulos plays Evan, Katherine's sensitive dentist boyfriend who wants to make a commitment to her, but who she is determined to keep at arm's length. Versailles star Rory Keenan also stars as Shep, Katherine's ex-boyfriend and a former boyband star. "Katherine is the one who had to be logical and do the lead childcare," says Katherine. "But she also kept him involved in her daughter's life, because she knew that family and parental contact is important, and he turns out to be a real asset in her life. She did the right thing, keeping him around, and he's not a terrible person, he loves his daughter. You can be arch enemies and still both be good parents!"
The Duchess trailer: what does it reveal?
https://www.youtube.com/watch?v=UVGxDAGFCNE
The trailer introduces us to Katherine as she's walking Olive to school, and revealing that her last serious relationship ended when Olive was a baby. Evan keeps trying to convince Katherine to view him seriously as a long-term partner, but she literally won't let him through her door. We also see Katherine's acrimonious relationship with Shep, and his new partner (played by Doon Mackichan) - but after being appalled at the response she gets at the fertility clinic, Katherine resolves to have another baby with Shep. In addition to all of that, we get a glimpse of Katherine as a tiger-mum at the school gates!
What else do we know?
The series features some raunchy moments, but don't expect too many of those in a potential second series. "I'll tell you this exclusive - I will never do another sex scene!" Katherine tells us. "I really considered running away - I did mental math, like, 'how much money would this production lose if I just ran down the street?' There wasn't actual nudity and it was handled very well, so I don't know why I'm being such a prude. I didn't know I was such a prude! But I really am."
One of Katherine's favourite scenes to film was the fight with rival mum Jane, as depicted in the trailer. "I think you get a really good idea of who Katherine is from that," she says. "And I've seen Sophie Fletcher [who plays Jane] in After Life and other things just being hilarious - we were so lucky to get her!"
Get the What to Watch Newsletter
The latest updates, reviews and unmissable series to watch and more!
Staff Writer for TV & Satellite Week, TV Times, What's On TV and whattowatch.com
Steven Perkins is a Staff Writer for TV & Satellite Week, TV Times, What's On TV and whattowatch.com (opens in new tab), who has been writing about TV professionally since 2008. He was previously the TV Editor for Inside Soap before taking up his current role in 2020. He loves everything from gritty dramas to docusoaps about airports and thinks about the Eurovision Song Contest all year round.