The Girl Who Knew Too Much (1963) | Mario Bava's Hitchockian thriller gets a re-mastered HD release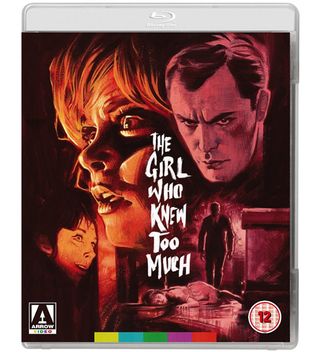 Out this week comes Arrow Video's UK Blu-ray and DVD release of Mario Bava's 1963 thriller thriller The Girl Who Knew Too Much, completely restored.
SYNOPSIS Young American secretary Nora Davis (Letícia Román) loves reading murder mystery novels, but never dreamed she'd end up in a real life case. Whilst visiting an elderly aunt in Rome, she witnesses a murder on the famed Spanish Steps. But with no body, the police and a young doctor, Marcello Bassi (John Saxon (opens in new tab)), refuse to believe her story. Nora then starts researching a 10-year-old case involving the Alphabet Killer, only to end up his next intended victim. Can she convince Marcello that she isn't imagining things before the bodies start piling up?
THE LOWDOWN Intended as an homage to Hitchcock and a macabre twist on fluffy European vacation romcoms like 1954's Three Coins in the Fountain, Mario Bava (opens in new tab)'s La Ragazza Che Sapeva Troppo (opens in new tab) ended up laying the blueprint for all those gory Italian thrillers that followed in its wake. Indeed, if it weren't for this, Dario Argento may never have had the career he's had. Bava's striking chiaroscuro lighting and masterful camerawork certainly comes to the fore in this, his last black and white feature, while his innate style makes this thriller something special indeed.
THE UK DUAL FORMAT RELEASE Digitally re-mastered from the original pre-print film elements, Arrow (opens in new tab) presents the film in both its original Italian version (La Ragazza Che Sapeva Troppo) and the longer US cut, entitled Evil Eye. Both versions contain new English subtitle track, and a High Rising featurette in which filmmakers Luigi Cozzi and Richard Stanley and authors Alan Jones and Mikel Koven reflect on Mario Bava's first true giallo. Also included are special features that were originally included on the Starz/Anchor Bay box-set released in 2007).
• For more on this film, check out Pete's full review (click here (opens in new tab))
http://youtube.com/v/3gRRzInFNpw
Get the latest updates, reviews and unmissable series to watch and more!
Thank you for signing up to Whattowatch. You will receive a verification email shortly.
There was a problem. Please refresh the page and try again.