The Governess Anne Hegerty talks boobs, being a battleaxe and why The Chase is her dream job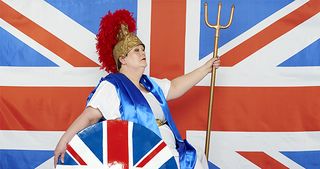 (Image credit: Dan Goldsmith)
TV Times (opens in new tab) is feeling a bit tired. We've been up all night swotting to impress general knowledge expert and arguably the feistiest Chaser on ITV's successful daytime quiz show, The Chase – Anne 'The Governess' Hegerty. (opens in new tab)
However, it soon turns out that all our hard work was well, academic really. As we walk into a south London studio, Anne is engrossed in having her hair and make-up done for our exclusive photo shoot.
Brought up in London, but now living in Manchester, Anne is a proof reader and editor by day, and I discovered she had a talent for memorising things.
"I remember hearing the Shakespeare phrase 'To be or not to be' at school and thinking 'What?' OK, well Shakespeare must have said some other stuff after that!'," she tells us. "So I started to go through his works and memorising chunks of it."
TV Times asked me to dress as my favourite historical character… so I said it was Dr Johnson. But when I was told it should really be a woman I suggested the Empress Theodora Byzantine - although she was a prostitute before she became an Empress, so to be honest I'm not really sure what outfit I would have worn!
Fame is kind of addictive… I even Google myself! I get recognised in the street a lot too. I do pub quizzes and recently there was this rather drunk woman at the bar and she said 'You know you look like The Governess'. When it dawned on her that I was, I think she thought she must be hallucinating.
Originally my nickname was The Headmistress… but in rehearsals Bradley started calling me The Governess and I said 'Could I be that instead?' It's a bit more kinky, a Governess is definitely more of a free agent then a headmistress. But when the producers showed me what I was going to wear I thought 'Hang on a minute there's going to be no room for vanity here.'
I adore Bradley Walsh… The first presenter considered for The Chase was Donal MacIntyre. Donal's a lovely bloke, but Bradley is such a cheeky chappy. He's great at bringing us down a peg or two – although he did once make a crack about my boobs reminding him of weather balloons! I wasn't really offended, but I looked at him and said: 'You're dead!' I think they cut that bit out though. I mean, I don't really mind anyone talking about my boobs, but still...
All the Chasers are great friends…. We have a Facebook message thread where we just chat to each other. Actually Mark is doing a reality show at the moment and I've been on the receiving end of the rants about how much he hates it!
I am the oldest chaser, but I definitely don't play mum to the boys… If someone on the show is leaving then Shawn will always organise a farewell card. He has the sweetest disposition out of all of us - but don't tell him I told you!
I used to like being the only woman on the show… I'm a bit of a queen bee so I thought if we have to have a woman it has to be somebody I know and Jenny is the captain on a team I quiz with. For months I was worried the producers might not pick her though. The same happened in 2011 when Mark and I were on the phone saying the new Chaser had to be Paul.
I beat Edwina Curry on two questions… both of which I thought she should've known. If the woman is quite like me then we definitely lock horns – that's part of the fun.
I've already played against my dream celebrity… it was David Haye – oh my god, he is smoking! I would love to play Stephen Fry, but the only time he hinted to the existence of The Chase was when he tweeted about how funny the Fanny Chmelar clip was. John sessions would be cool as well.
http://www.youtube.com/watch?v=nmwGFX5pgXw
I know the Eggheads pretty well…. Dave Rainford lives down the road from me and quite often we go to the same quizzes so I pick him up in my car on the way. I think Eggheads has a posher fan base than us. I mean the Duchess of Cornwall is an Eggheads fan, but as far as I'm aware she doesn't watch The Chase!
I feel sorry for the contestants… l don't like swaggering on being all cocky in case I don't win. I try to be a battleaxe, but at the same time treat them with respect. I've seen people shaking with nerves, partly because we make them stand up the poor dears – sometimes you can see the knees going.
I have no intention of leaving the show… it's the best job I've ever had! But if god forbid it wasn't on I would love to give Mastermind another go. For some reason I'm just rubbish at Mastermind, I've done it twice and always been knocked out in the first round!
Come and see if you can beat me… You should never be intimidated if you see me at your local pub quiz. There are some great quizzers out there that you might not recognise. Who knows who the next Chaser will be...
Get the latest updates, reviews and unmissable series to watch and more!
Thank you for signing up to Whattowatch. You will receive a verification email shortly.
There was a problem. Please refresh the page and try again.