The great pretender! James Corden fails to master guitar for US movie Begin Again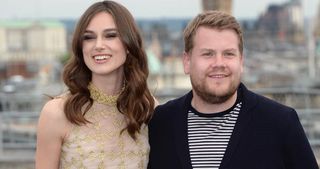 (Image credit: Doug Peters/EMPICS Entertainment)
Gavin & Stacey star James Corden reveals he tried to learn the guitar for his role in new US film Begin Again with Keira Knightley, but discovered it was easier to just pretend.
In the film James plays Steve, best pal to fellow musician Gretta (Keira). The plot sees Steve arriving in New York to help Gretta record an album with the help of disgraced record-label executive Dan (Mark Ruffalo). Down on his luck, Dan befriended Gretta after her college sweetheart Dave (Adam Levine – Maroon 5, The Voice) landed a major recording contract and was led astray by fame and fortune.
With half the cast musicians, who'd never acted, and the other half actors, who'd never played a musical instrument, James reveals: "I think all actors secretly harbour a dream to be a musician, and all musicians want to be an actor one day. It's true of every actor I've met and every musician I've met. I think it's because musicians see actors and say, 'Wouldn't it be great to be someone else for a day?' And actors see musicians and think, 'Wouldn't it be great to just walk out as yourself and have that freedom to perform as yourself?'"
James admitted before his attempt to learn to play the guitar was doomed: "I'd tried to learn the guitar, and I'd never even picked one up! Most of my preparation was just trying to look like a musician, because director John Carney (Once) is so insistent that all the music be played by the actors whenever possible."
Begin Again is set almost entirely in New York, which The Wrong Man's star admits was an added attraction to accepting the role:
"I'm one of New York's biggest fans. I love so many films that are set in New York. I've been there and seen people filming stuff, and I thought, 'that just must be the coolest thing ever.' I'm pleased to say I wasn't let down. It was a dream come true for me!"
Begin Again is in cinemas from Friday, July 11. Check out the trailer here.
Get the latest updates, reviews and unmissable series to watch and more!
Thank you for signing up to Whattowatch. You will receive a verification email shortly.
There was a problem. Please refresh the page and try again.