The Leech Woman (1960) | DVD release - Staying young forever comes at a deadly price in the classic Universal chiller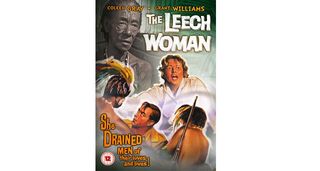 A woman whose scientist husband has been experimenting on her finds that she has the power of eternal life, but the necessary ingredient to keep her young can only be found in the dead bodies of men...
From Universal comes this classic 1960 chiller starring Coleen Gray (Nightmare Alley), Grant Williams (The Monolith Monsters), Gloria Talbott (I Married A Monster from Outer Space) and Phillip Terry (The Lost Weekend). Produced as a second feature to the US release of Hammer's The Brides of Dracula, 1960s The Leech Woman is curious entry in Universal's classic horror cycle. Helmed by screenwriter Edward Dein (who worked on the 1940s Tom Conway Falcon movies) it's a strange brew of jungle adventure (cue stock footage of African wildlife and tribal dances), marriage meltdown soap drama and sci-fi fantasy.
This campy B-movie with an acid tongue arrives on DVD in the UK from Screenbound Pictures DVD release featuring a pristine print of the black and white transfer, in Dolby Digital mono sound.
READ MORE… (opens in new tab)
http://www.youtube.com/watch?v=uPm-H3dPlX8
Thank you for signing up to Whattowatch. You will receive a verification email shortly.
There was a problem. Please refresh the page and try again.