The Town That Dreaded Sundown (2014) | A slick slasher re-imagining of a 1970s cult classic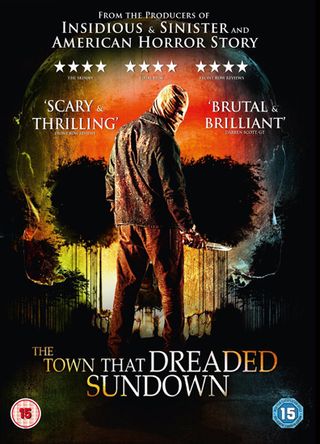 Sixty-five years after the brutal 'Moonlight Murders', Texarkarna is still haunted by those chilling events. But for high school girl Jami (Addison Timlin), they become a horrifying reality when her date Corey (Spencer Treat Clark) is brutally slain in front of her – mirroring the same Phantom Killer attack that took place all those years ago.
Escaping with her life, Jami is then goaded by the killer into researching the original case. As the local local authorities glean clues from the 1976 movie, Jami and geeky town archivist Nick (Travis Tope), follow a series of leads in a bid to uncover the killer's identity…
Back in 1976, Arkansas director Charles B Pierce filmed The Town That Dreaded Sundown, a pseudo-documentary re-telling the true story of the unsolved murders committed by The Phantom Killer – a hooded sadist who terrorised the old lumber town of Texarkarna in 1946. Despite its Keystone Cop comedy moments, Pierce's drive-in slasher became one of the nastiest entries in the teen slaughter cycle of horrors of the 1970s and a minor cult offering (which gets a HD blu-ray release from Eureka! in the UK on 24 August).
38-years on, the producers of Paranormal Activity and American Horror Story director Alfonso Gomez-Rejon have unleashed the spirit of The Phantom Killer once again. But instead of a straight remake, they've gone all smart and post-modern on us by making the cult status of Pierce's original film part of the murder mystery plot, while also re-staging some of its most memorable scenes. It's a slick inventive twist that breathes new blood into one of Texarkana's infamous local legends – the other being the Fouke Monster aka the Southern Sasquatch, which Pierce made the star of his 1972 faux-documentary The Legend of Boggy Creek.
It doesn't matter if you haven't seen the original, but it's fun to see how the filmmakers have incorporating some key scenes into their re-imagining: particularly the trombone slide/knife stabbing (here it's two guys making out at a scrap-yard), and the frightening cornfield bludgeoning (which originally had Gilligan's Island's Dawn Wells playing the victim). They've also given their film some Scream-styled death set pieces, which include two really big, 'I didn't see that coming' shocks.
Roberto Aguirre-Sacasa, who penned the LGTB-friendly Glee and Looking TV series, and the recent Carrie remake, gets in another dig at bigoted Christian-worshipping small-town America, where 'Everyone has got some kind of blood on their hands'. And this is nicely visualised in the retro 1970s-influenced art direction, where the seemingly deserted town, always shot at or after sunset, looks like it's stuck in a time warp (just like those bigots). If there's one downside, however, it's the big reveal. It might be clever, but it feels like an after thought… then there's that shadow?
The Town That Dreaded Sundown is available on DVD in the UK from Metrodome from Monday 17 August
WATCH THE TRAILER http://youtube.com/v/GkbkZSMMirM
Get the latest updates, reviews and unmissable series to watch and more!
Thank you for signing up to Whattowatch. You will receive a verification email shortly.
There was a problem. Please refresh the page and try again.