The unofficial Doctor Who adventure Downtime gets a UK DVD release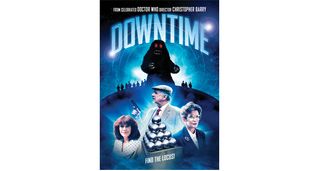 Well here's something for the most dedicated Doctor Who fans, it's the 1995 direct-to-video adventure, Downtime, that was never sanctioned by the BBC, and only now getting a proper DVD release.
Written by Who writer Marc Platt, Downtime, is the unofficial sequel to the Second Doctor season five serials The Abominable Snowmen and The Web of Fear, in which the Brigadier (Nicholas Courtney) and Sarah Jane (Elisabeth Sladen) investigate a mysterious school run by the Second Doctor's former companion Victoria Waterfield (Deborah Watling) and explorer Professor Edward Travers (Jack Watling).
Victoria, however, is being manipulated by The Great Intelligence in a bid to manifest itself in the Earth's computer. With the Doctor nowhere to be found, the Brigadier and Sarah Jane are on their own as they try to defeat the Great Intelligence and a new breed of Yeti…
Directed by the late Christopher Barry (who worked with William Hartnell, Patrick Troughton, Jon Pertwee and Tom Baker's incarnations of the Time Lord), and featuring several well-known Doctor Who actors, including John Leeson (the voice of K-9) and Geoffrey Beevers, Downtime is released in a two-disc set from Koch Media (opens in new tab) in the UK on 16 November, and includes a behind-the-scenes featurette (with never before seen footage) and a look at the production's editing, sound and visual effects work.
Get the latest updates, reviews and unmissable series to watch and more!
Thank you for signing up to Whattowatch. You will receive a verification email shortly.
There was a problem. Please refresh the page and try again.