Tim Roth: 'All Reg Keys wanted was an apology from Tony Blair'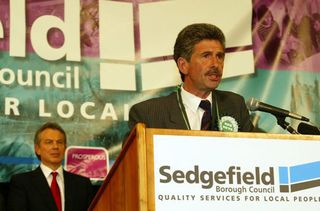 In acclaimed writer Jimmy McGovern's new two-part BBC1 drama, Hollywood star Tim Roth is Reg Keys, father to 20-year-old Lance Corporal Thomas Keys, one of six Royal Military policemen killed by a 500-strong mob in Iraq in June 2003.
Since then Reg has campaigned tirelessly for Tony Blair to he held accountable for sending British troops into Iraq to fight an 'unnecessary' war, and in the 2005 general election he stood against the then Prime Minister in his constituency of Sedgefield, County Durham.
Here Tim tells TV Times about filming the drama, meeting Reg and and his take on the Iraq war...
What did you know of Reg Keys' story when you were sent the script?
"I live in the States now, so I didn't know anything about what Reg had done and what he had been through. Then I got the script and it had Jimmy McGovern's name attached to it. I was sitting in bed reading it and I said to my wife Nikki: 'This is incredible, I am going to do this.'"
You met Reg before filming began in Liverpool last autumn, how did that go?
"Reg came up the night before the read through and we spent some time together. You get a sense of his strength when you meet him. He also helped us a lot throughout filming. He said: 'Ask me anything, Tim, ask me anything.'"
Reg's distinctive Solihull, West Midlands accent must have been a challenge…
"I always felt I should do it with the accent. But you have to be careful. Ever since Tim Spall used it in Auf Wiedersehen, Pet that accent has had a pretty rough ride.
The danger is going too far with it and making it comical. But I think we managed it. I have a dialect coach and I listened to Reg, who approved what I did as did his other son Richard.
What's your take on the politics of the war?
"I took part in the anti Iraq War protests in 2003. I was in Budapest in Hungary where they wouldn't let you march, but they let you stand so I had my little protest. We all stood in a public square being glared at by policemen. After his son was killed in Iraq all Reg wanted was to talk to Tony Blair but Tony Blair avoided him like the plague, which is why Reg ended up deciding to stand against him in the election. All Reg wanted was an apology from Blair for sending his son to war on a lie..."
The real Reg Keys standing against Tony Blair
How does this role compare with other roles you've played?
"It has been fantastic. I will cherish it. And I am sure me and Reg will stay in touch. A lot of the drama takes place while Reg is grieving. Hopefully we got it right and we did it justice... and we did him justice."
Reg starts on Monday June 6 at 9pm on BBC1.
Get the What to Watch Newsletter
The latest updates, reviews and unmissable series to watch and more!