Tim Vine takes over as Beach the butler in Blandings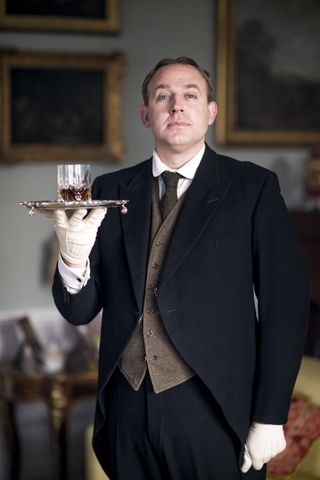 After leaving Not Going Out in 2012, stand-up comic Tim Vine returns in another comedy role this week when he plays PG Wodehouse's loyal and unflappable butler Beach in a second series of BBC1's hugely enjoyable Blandings.
The 46-year-old comic, who takes over the part from Mark Williams, joins Timothy Spall and Jennifer Saunders, who reprise their roles as eccentric aristocratic siblings Clarence and Connie.
This time, the pair reunite with their louche brother Galahad (Julian Rhind-Tutt) and fierce sister Charlotte (Celia Imrie), while guest stars in the series also include Harry Enfield, John Sessions and James Fleet.
TV&Satellite Week magazine caught up with Tim to find out more…
I've done extensive research for the role of Beach… I even went to a servants' training school. It's called I Can't Believe It's Not Butler.
I've always liked the idea of dressing up… I remember Anthony Andrews looking dapper in The Scarlet Pimpernel and I was keen to do something like that. The 1920s is perfect; I loved putting on the butler gear.
I based my performance as Beach on many famous screen characters… Remember the wall-eyed servant Sockett played by Bernard Bresslaw in Carry On Screaming! who would say, 'The master will see you now'? I'm a bit like him.
I use my eyebrows a lot when I'm acting… At times, it seems as if I'm doing a rather bad Roger Moore impression. I'm like Roger's younger, less charismatic brother.
I was a bit worried about working opposite the pig known as The Empress of Blandings… At one point, I had to film a scene with the pig behind me and I was worried she would knock me off my feet and I would end up riding on her back as she charged out of the door. Come to think of it, that would have been a very funny scene.
Before comedy, I used to work in an office in Croydon… I said to a colleague that I was going into comedy, and she replied, 'I can't see that working. You're too posh.'
You always remember your first paid gig… After many attempts, I was paid £25 for winning a competition at the Comedy Cafe in London. When they paid me, I said, 'I was only messing around. I wasn't thinking of doing it as a job!'
I'm a big fan of sports journalism… The other day, I read a hilarious article about footballers in which the journalist wrote, 'Some players are rumoured to be on the verge of mastering cutlery.'
I love darts… I play every day. Every morning I put the kettle on and try to do a 501, ending on a double, before it boils.
The new series of Blandings begins on Sunday February 16 at 6.30pm on BBC1.
Get the latest updates, reviews and unmissable series to watch and more!
Thank you for signing up to Whattowatch. You will receive a verification email shortly.
There was a problem. Please refresh the page and try again.