Tim Vine and Tom Hardy feature among BBC's glittering line-up of 12 new comedy pilots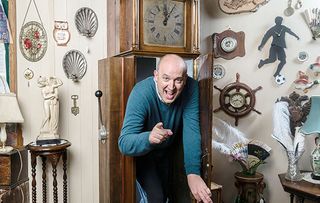 Hollywood star Tom Hardy, comedian Rob Beckett and Not Going Out's Tim Vine are just three of the comedians set to star in the BBC's new pilot shows.
The BBC (opens in new tab) has announced the ambitious launch of 12 new comedy pilots, featuring comic stars Tim Vine and Tom Hardy, as part of its mission to showcase the best of old and new comedy talent.
Shane Allen, controller of comedy commissioning, said: "In these 12 shows there is such a breadth of tone and ideas, I can't wait for everyone to see what we've got on offer."
The new shows have an exciting line-up of stars. For BBC3 Tom Hardy teams up with Charlotte Riley, Javone Prince and Kayvan Novak in Sticky. On BBC1 Not Going Out star Tim Vine harks back to the Robin Hood era in Tim Vine Travels Through Time, while 8 Out Of Ten captain Rob Beckett plays twenty-something Rob who quits his job to move back home in the sitcom Static.
BBC2 also has three new shows starring the likes of Siobann Finneran from Downton Abbey and Sarah Solemani from Bridget Jones's Baby.
Speaking about the 12 new shows, Allen said: "At BBC Comedy our passion and drive is to spot, nurture and provide a platform for the UK's world-class comedic talent; from those taking their first steps alongside supporting the brightest comedy stars to reach wide audiences. Discovering new talent, whatever their background, is key to continuing the rich legacy of taking performers on those journeys and why we have such a range of well-loved shows on air now."
Two examples of success from last year's pilots include Jonny Vegas's Home from Home and Motherland, both of which will launch full series later this year after first appearing on BBC2's New on Two slot.
Allen was confident about the BBC's ability to provide first class comedy: "No broadcaster in the world is more committed to British comedy than the BBC with this extensive breadth of new shows to offer to audiences and amazing opportunities and initiatives for budding writers and performers like BBC Writersroom, the Salford Sitcom Showcase, the Felix Dexter Bursary, the Caroline Aherne Bursary for Funny Northern Women (opens in new tab) and the Radio 2 Comedy Awards."
Comedy shows to launch on BBC1:
Mister Winner
Leslie Winner, played by Spencer Jones, means well, but he is prone to accidents. As he plans a proposal to his girlfriend he is unaware that she is having doubts about the relationship. Romesh Ranganathan makes a guest appearance, while other cast members including EastEnders' Shaun Williamson and Call the Midwife's Dorothy Atkinson.
Tim Vine Travels Through Time
Tim Vine (pictured above) revisits the Robin Hood era in a quest to mend a golden arrow and a broken heart. Speaking about what the audience can expect, Tim said: "I'm looking forward to travelling through time on the BBC. I like to think of this show as Doctor Who with puns."
Static
This sitcom follows the life of a twenty-something Rob, played by Rob Beckett, who decides to quit his job in London and move back in with his parents. Everything looks great until he finds out his parents have sold the house and moved to Margate to live in a static caravan...
Will this encourage Rob to get back on his feet or does he settle in to life outside of the city?
Comedy shows to launch on BBC2:
Famalam
No area of the universe is out of reach in this comedy sketch show! You can expect everything from alien encounters on the outskirts of the universe to what a man gets up to when left home alone for 10 minutes. John Macmillan from Dark Knight Rises stars alongside Vivienne Acheampong from The Aliens and former Vine star Tom Moutchi.
The Other One
This 30-minute comedy follows the relationship of two girls, both with the same name, who only discover they are sisters when their father dies. Bad Education's Pippa Brown is the producer and BAFTA award-winning Dan Zeff is directing. Downton's Siobhan Finneran joins the cast, which also includes The Thick Of It's Rebecca Front.
The Pact
As teenagers Amy (Sarah Solemani) and Andy (Brett Goldstein) agree that if they reach 35 and are single they will marry each other. The pair drift apart and lead very different lives but when they bump into each other their lives are changed. It is fair to say it isn't a simple journey...
Comedy shows to launch on BBC3:
Chinese Burn
This show looks to challenge the stereotypes Chinese girls are associated with. The show 'busts open the door to the messy, hilarious, unbridled reality putting an Eastern twist on the Western world.'
The lives of three Chinese girls are followed as they embark on modern life in the capital. The show is written by brand new talent Yennis Cheung and Shin-Fei Chen.
Hailmakers
Hailmakers follows Saz and Sol, the country's lowest-rent entrepreneurs, as they find out that there's nothing harder than easy money. Saz and Sol will do anything for success and money, but they will only work for themselves.
Sticky
This animated sitcom follows four best friends (Tom Hardy, Javone Prince, Kayvan Novak and Charlotte Riley) who attend a college located in London's mythical borough of Shatford...
When the Wi-Fi connection is disrupted chaos erupts. How will the friends cope offline?
Celebrity Voicemail
BAFTA award-winning Kayvan Novak adapted his critically acclaimed Radio 4 comedy, The Celebrity Voicemail Show, for BBC Three. The show imagines what it would be like to listen to the voicemails left on a celebrity's answerphone. Some of the imagined scenarios include listening to George Lucas's answerphone midway through the first phase of shooting Star Wars.
Wannabe
From part of the team behind the BAFTA-winning BBC Three hit People Just Do Nothing, Wannabe is written by Lily Brazier and Ben Murray and directed by Ben Murray and Steve Stamp.
Maxine was a hit in the '90s, but her 15-minutes of fame were just not enough. Now middle-aged and a failing music manager she is desperate for one last shot of fame.
Enterprice
Enterprice is a new comedy written and created by Kayode Ewumi, co-creator of online smash #HoodDocumentary. Two young entrepreneurs, Kazim and Jeremiah, are just setting up their home delivery service business. The sitcom follows their bromance and the challenges they face as their personalities sometimes collide.
Scheduling details for all the new launches will be confirmed at a later date.
Get the latest updates, reviews and unmissable series to watch and more!
Thank you for signing up to Whattowatch. You will receive a verification email shortly.
There was a problem. Please refresh the page and try again.