TV Times 16 questions that MUST be answered in the final episode of Line of Duty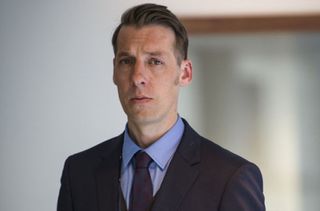 Here at TV Times we were shocked to our socks by episode five of Line of Duty and it's left a bulging, unredacted file full of questions to be answered in the feature-length series finale to be screened next Thursday (28 April, 9pm, BBC2).
Here's our list of the most pertinent questions for AC-12 pertaining to the investigation…
1
Where is DCI Matthew 'Dot' Cottan is running off to with his dodgy number plates?
2
Will he return to the scene of his latest crime? With cleaning products?
3
Will Cottan succeed in framing DS Steve Arnott?
4
Will DC Kate Fleming see through Cottan and his web of evil lies?
5
Is former DI Lindsay Denton innocent?
6
What superhuman power enabled Denton to know there would be a copy of Sgt Danny Waldron's list?
7
Was retired Chief Supt, Patrick Fairbank a child abuser?
8
Or just a friend of child abusers?
9
Or is he really just a lovely old man who needs someone to buy him a chain for his reading glasses?
10
Why can't women be in AC-12's local Freemasons? They can in other places. Is this not 2016?
11
Is AC-12 lawyer Gill Bigelow corrupt too?
12
Who tampered with Ronan Murphy's file?
13
Exactly what has benefits cheat DC Nigel Morton got on Cottan?
14
Who controls The Caddy?
15
Will those abused at Sandy View Boys' Home finally get justice?
16
The BBC has already announced there will be a fourth series, but will it be screened next year? Who stays? Who goes? And how many girlfriends (to the nearest five) will DS Steve Arnott get through in the meantime?
Thank you for your co-operation.
Get the What to Watch Newsletter
The latest updates, reviews and unmissable series to watch and more!