TVT's 6 new shocks for Doctor Foster 2016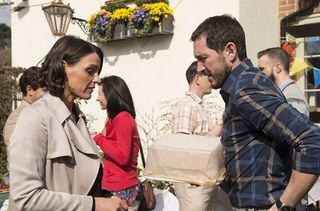 Twisty-turny shocker Doctor Foster was the surprise hit drama of the Autumn.
TV Times loved it and we, along with millions of others, want more!
Here are our 6 suitably outrageous storyline ideas for series two. Help yourself BBC1 - just make it happen!
Let us know below what YOU think should happen next....
1 Simon wants Doctor Foster back!
Cheating husband Simon Foster realises he's made a huge mistake and, behind his
girlfriend Kate's back (of course), he tries to win back Doctor Gemma Foster.
Gemma sets him ridiculous tasks to prove his love (run naked through Tesco, etc) and then rejects him anyway.
2 Simon is not the father of Kate's baby…
…philandering neighbour Neil is the daddy!
3 Doctor Foster's son Tom has grown up and is having a revenge fling with Kate
Getting it on with the woman who broke up your parents' marriage is wrong,
complicated, and actually pretty mild for Doctor Foster.
4 Kate's mum Susie tries to seduce Simon
Just to prove he's not to be trusted with anyone, you understand. Simon rejects Susie but they are caught in what looks like a compromising
position by Kate. And she tells her dad Chris....
5 Chris frames Simon for murder…
… and Doctor Foster has the vital evidence that will get Simon off the hook - but will she help him...?
6 Doctor Foster finds a new "perfect" boyfriend
But poor poor Gemma, eventually, finds out he used to be a she and had a baby with..... guess who!
Doctor Foster then gives up and becomes a nun. The end.
What do you think should happen next? Let us know below…
Get the latest updates, reviews and unmissable series to watch and more!
Thank you for signing up to Whattowatch. You will receive a verification email shortly.
There was a problem. Please refresh the page and try again.